Quot;Good evening Malmö" - Voting order revealed
Europe, we are ready!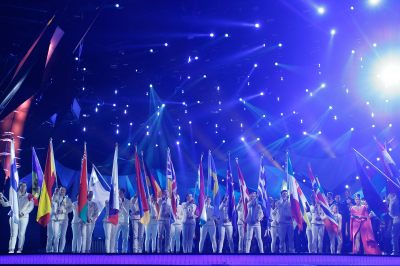 Grand Final parade
Malmö, Sweden -
It's less than five hours for Europe's favourite TV show to start. The artists in the Grand Final of the 2013 Eurovision Song Contest are ready to go on stage in the Malmö Arena and perform the 26 competing songs for theTV viewers all over the world! The 26 acts competing in the Grand Final of the 2013 Eurovision Song Contest in order of appearance are:
1. France: L'Enfer Et Moi by Amandine Bourgeois
2. Lithuania: Something by Andrius Pojavis
3. Moldova: O Mie by Aliona Moon
4. Finland: Marry Me by Krista Siegfrids
5. Spain: Contigo Hasta El Final (With You Until The End) by ESDM
6. Belgium: Love Kills by Roberto Bellarosa
7. Estonia: Et Uus Saaks Alguse by Birgit
8. Belarus: Solayoh by Alyona Lanskaya
9. Malta:Tomorrow by Gianluca
10. Russia: What If by Dina Garipova
11. Germany: Glorious by Cascada
12. Armenia: Lonely Planet by Dorians
13. The Netherlands: Birds by Anouk
14. Romania: It's My Life by Cezar
15. United Kingdom: Believe In Me by Bonnie Tyler
16. Sweden: You by Robin Stjernberg
17. Hungary:: Kedvesem by ByeAlex
18. Denmark: Only Teardrops by Emmelie de Forest
19. Iceland: Ég Á Líf by Eyþór Ingi
20. Azerbaijan: Hold Me by Farid Mammadov
21. Greece: Alcohol Is Free by Koza Mostra featuring Agathon Iakovidis
22. Ukraine: Gravity by Zlata Ognevich
23. Italy: L'Essenziale by Marco Mengoni
24. Norway: I Feed You My Love by Margaret Berger
25. Georgia: Waterfall by Nodi Tatishvili and Sophie Gelovani
26. Ireland: Only Love Survives by Ryan Dolan
Dina Garipova to represent Russia
Dina Garipova, the Russian representative for Malmö. Source: Channel One Russia
Published19/Feb at 04:59
Dina Garipova is a young and talented singer who is originally from the Republic of Tatarstan. She got famous in Russia after her victory in the talent TV show The Voice 2012. Dina is a big fan of the Eurovision Song Contest. She believes that participating in it "is an important crucial step in any artist's career".
Moscow, Russia -
This working day has started for the Russian broadcaster Channel One with good news – they chose their entry for the 2013 Eurovision Song Contest! Dina Garipova will represent her country in Malmö. The young and very talented singer will perform What If on stage.
This year, the Russian broadcaster Channel One has made their choice for the 2013 Eurovision Song Contest internally and selected a young talented singer Dina Garipova. On stage in Malmö, Dina will perform the song What Ifthat was composed by two Swedish producers Gabriel Alares, Joakim Bjornberg in cooperation with the Russian rock-pop musician Leonid Gutkin.
Dina Garipova became very popular in Russia after her victory in the reality talent show The Voice 2012. "The singer's choice was obvious and quite logical, - said the Channel One Russia music director Yurij Aksyuta. "We have chosen Dina internally but actually it was a public choice. The Russian TV viewers voted for the winner of The Voice and Dina alone got nearly one million of votes."
Dina is originally from the Republic of Tatarstan. She started singing with the age of six. The artist performs pop and rock songs in Tatar, Russian, French, English and Italian. Dina's idol is Whitney Houston.
Opening ceremony. Photo: Dennis Stachel (EBU)
quot;Good evening Malmö" - Voting order revealed
Presenter Petra Mede Photo: Dennis Stachel (EBU)
The results of the final of "Eurovision-2013":
1. Denmark - Emmili de Forest - «Only Teardrops» - 281 points
2. Azerbaijan - Farid Mammadov - «Hold Me» - 234 points
3. Ukraine - Golden Ognevich - «Gravity» - 214 points
4. Norway - Margaret Berger - «I Feed You My Love» - 191 points
5. Russia - Dean Garipova - «What If» - 174 points
6. Greece - «Koza Mostra» & Agafonas Iakovidis - «Alcohol Is Free» - 152 points
7. Italy - Marco Mengoni - «L'essenziale» - 126 points
8. Malta - Gianluca Bezzina - «Tomorrow» - 120 points
9. Netherlands - Anouk - «Birds» - 114 points
10. Hungary - ByeAlex - «Kedvesem» - 84 points
11. Moldova - Alain Moon - «O mie» - 71 points
11. Belgium - Roberto Bellarosa - «Love Kills» - 71 points
13. Romania - Cezar - «It's My Life» - 65 points
14. Sweden - Robin Shernberg - «You» - 62 points
15. Georgia - Sopho Gelovani & Nodiko Tatishvili - «Waterfall» - 50 points
16. Belarus - Alain Lanskaya - «Solayoh» - 48 points
17. Iceland - Eytour Inga Gyunnleygsson - «Eg a lif» - 47 points
18. Armenia - "Dorians» - «Lonely Planet» - 41 points
19. United Kingdom - Bonnie Tyler - «Believe in Me» - 23 points
20. Estonia - Birgit Yygemeel - «Et uus saaks alguse» - 19 points
21. Germany - «Cascada» - «Glorious» - 18 points
22. Lithuania - Andrius Poyavis - «Something» - 17 points
23. France - Amandine Bourgeois - «L'enfer et moi» - 14 points
24. Finland - Krista Siegfrids - «Marry Me» - 13 points
25. Spain - «El Sueso de Morfeo» - «Contigo hasta el final» - 8 points
26. Ireland - Ryan Dolan - «Only Love Survives» - 5 points
---
Date: 2016-01-03; view: 594
---