IV. Speaking Tasks
1. Work in pairs. Look at the picture with parts of the body asking each other questions "Why do we need an (elbow)?" and explain their functions. Then show and name all body parts that are not marked in the picture (you may use ex.1 from the Vocabulary Practice Section if you can not remember any).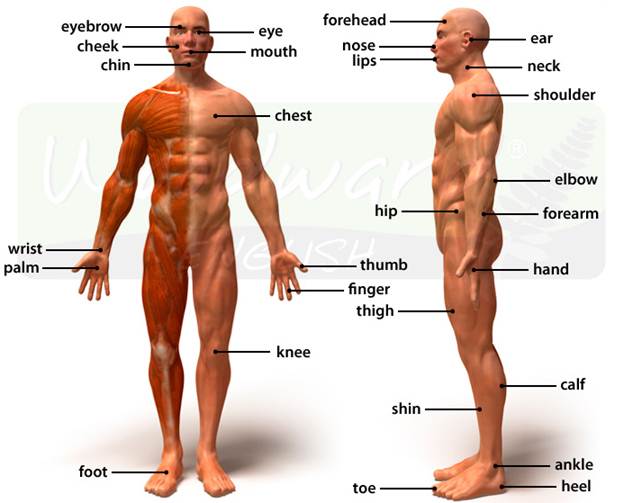 2. Go round the class and ask everybody one of the questions below. Summarise the information you get and in short present it to the class.
- What are the most useful parts of our body?
- What body part is the weakest?
- What part of the body is the ugliest?
- What part of the body is the most beautiful?
- What parts of the body are easily injured?
- What part of your body would you like to change?
- What three adjectives would you use to describe the human body?
V. Grammar Check
In Column A of this table there are nouns relating to medicine. For each of the nouns decide whether the correct plural form is in Column B or Column C and then circle it. The first question has been done for you as an example.
| | | | |
| --- | --- | --- | --- |
| | Column A | Column B | Column C |
| 1. 2. 3. 4. 5. 6. 7. 8. 9. 10. 11. 12. 13. 14. 15. 16. 17. | stratum foot calf abscess joint oesophagus diagnosis syringe fungus vertebra scrotum rib scalp tooth tongue abdomen trachea | stratums foots calfs abscesses jointes oesophagum diagnoses syringes fungum vertebrum scrota ribs scalps tooths tongus abdomens tracheum | strata feet calves abscessi joints oesophagi diagnosises syringae fungi vertebrae scrotae ribes scalpes teeth tongues abdomen tracheae |
SELF-STUDY EXERCISES
1.1 Complete these words. The first letter is given. They are all parts of the body.
1. t …………. (you have one on each hand)
2. l …………. (two parts of your mouth)
3. e …………. (you hear with these)
4. g …………. (your teeth grow in them)
5. e …………. (the middle part of your arm)
6. s …………..(the part under your foot)
7. h………….. (Achilles had a problem with this)
8. k …………..(a joint in your leg)
9. c …………...(the part below your mouth)
10. s ………….(the soft part below your waist)
11. n ………….(it holds up your head)
12. s ………….(the row of bones down the centre of your back)
13. w …………(you put your watch round it)
14. n………….. (the small hollow place in the centre of your stomach)
15. c …………. (you have one on each side of your face)
16. e …………. (the flap that comes down over your eye while you sleep)
17. n …………. (the holes in your nose)
18. s …………. (the front part of your lower leg)
19. f …………. (the part of your face above your eyes)
20. t…………...(the front part of your neck)
1.2 Translate the text into Ukrainian
Body Parts
Body parts are external or internal. External body parts are outside parts of your body such as an arm, eye, ear or nose. Internal body parts are inside of you such as heart, lungs or kidneys. All parts of the body play a special role in how our body works.
Hearts pump blood through our body. Vessels (tubes, veins) are connected to the heart. These tubes take the blood to all parts of body.
Our lungs help us breathe. Lungs take oxygen from the air into the blood and carbon dioxide from the blood into the air.
Muscles contract and relax to help us move.
Bones are hard parts of our body. They help hold our body up. Bones protect the internal parts (organs) of our body.
Kidneys take out bad things from our blood and change them into urine.
Our brain controls all parts of our body. It helps us think.
The stomach is where our food goes. It breaks our food into small pieces so that our blood can take nutrients from the food. Food gives us energy and keeps us strong.
A joint is where two bones meet. Joints have cartilage (a soft material) in them so that the hard bones can move easily.
1.3 Translate the text into English
---
Date: 2014-12-28; view: 2490
---