What's your idea of Peace? Express yourself through ROGEC (Rotary Global Essay Competition) by RC Pune Katraj, D3131, INDIA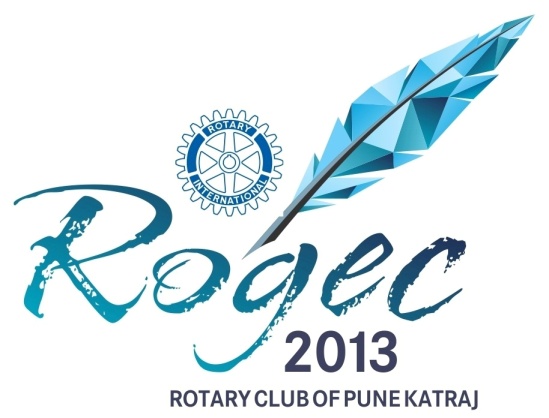 Rotarians world over, are synthesis of intellectuals who come together to offer their expertise and resources for doing good to the World with a motto of "Service Above Self". Rotarians come from diverse cultures, unite for common goals through service projects, follow high ethical standards in their profession and use Rotary as a platform for advancement of international understanding, goodwill and peace.
Rotary Global Essay Competition (ROGEC) is a platform for Rotary family consisting of Rotarians, Anns, Annets, Rotaractors and Interactors to express themselves on a Global Canvas on range of subjects which will ultimately fulfill Rotary's objectives and make this world a better place to live.
ROGEC invites views and analysis from diverse and distinct cultures, fusing them together in a neatly woven bouquet. The issues like hunger, diseases, inequality, education, conflicts, etc are common across cultures and countries, the magnitudes and perspectives however are different. ROGEC aims to provide every individual in the Rotary fraternity a global platform to convey a story about the issues, reasons and resolutions.
Rotary Global Essay Competition (ROGEC) is being organized by Rotary Club of Pune Katraj (R.I. District 3131, India). Theme for ROGEC 2013 is "World Understanding & Peace". ROGEC shall reward the winning entries with attractive prizes including all paid trip to India and much more. As also, all participants get eCertificates and chance to win other prizes. For details visit www.rogec.org and like www.facebook.com/rogec2013.
HIGHLIGHTS of Rotary Global Essay Competition (ROGEC)
· Organized by : Rotary Club Of Pune Katraj (D3131, INDIA)
· A Global Essay Competition
· Theme for 2013 : "World Understanding & Peace"
· Submissions : Started from 30th July 2013
· For more details visit :www.rogec.org
· For latest updates : www.facebook.com/rogec2013
---
Date: 2015-01-29; view: 1114
---