We think we can help.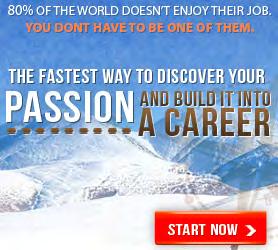 It turns out 80% of people don't enjoy their work. So you're not alone, but it doesn't have to be that way.
The good news is that we created the Live Off Your Passion Career Course tohelp with that exact goal.
It's the first course of its kind to give you the exact repeatable process and proven framework for finding your passions, choosing the most lucrative option and building a career around doing work that genuinely excites you...
And after helping over two thousand people find and do work they love, the course was even voted The Best Personal Development Product of 2011. Perhaps it could help you too.
Here's to a new year of finding passion and building a career around it!
Click here to learn all about the Live Off Your Passion Course or pick up your own copy.
And one last thing – please help one person:
Do you know someone else who could use some help with goals this year? We created this as a free tool for all of you and we'd greatly appreciate you sharing it with those who need it. Please take two minutes to email this guide to one or two friends. Just a one line email with subject that says "You've gotta see this free goals workbook."
And if you're game, also share it on Twitter or Facebook. You can use the links on the Download Page.
CHANGE THE WORLD
BY DOING WORK YOU LOVE
GOAL SETTING & ACTION WORKBOOK
Also, our community of world-changers at Live Your Legend loves to hear the experiences and successes of others – and to help in any way we can.
Be sure to share at least one of your big goals with our Action & Accountability Group onFacebook here.
Thanks so much for being a part of what we're building.
You guys are awesome!
~ The Live Your Legend Team
CHANGE THE WORLD
BY DOING WORK YOU LOVE
---
Date: 2016-01-14; view: 442
---