WXR System Components
The weather radar control panel is on the P8 aft electronic panel in the flight compartment.
WXR System Interface Components
These are the flight compartment components that have an interface with the WXR system:
· Left EFIS control panel (P7)
· Right EFIS control panel (P7)
· Left inboard display unit (P1)
· Right inboard display unit (P3)
· IRS select switch on the navigation/displays source select panel (P5).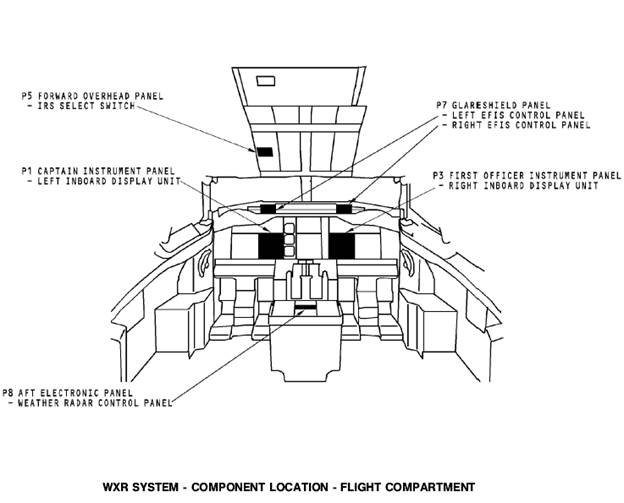 WXR SYSTEM - COMPONENT LOCATION - FORWARD EQUIPMENT COMPARTMENT AND NOSE RADOME
General
The WXR antenna is on the forward bulkhead behind the nose radome.
These are the WXR system components in the forward
equipment compartment:
· WXR R/T
· WXR R/T mount.
CAUTION: WHEN REMOVING OR INSTALLING THE WEATHER
RADAR R/T, CARE SHOULD BE TAKEN TO AVOID
DAMAGE TO THE CAPTAIN PITOT AIR DATA
MODULE FLEXIBLE HOSE.
WXR SYSTEM - POWER AND ANALOG INTERFACES
System Power and ON/OFF
The WXR receiver transmitter (R/T) gets 115v ac through the WXR RT circuit breaker from the 115v ac XFR BUS 2 (P6 circuit breaker panel). The WXR R/T circuit breaker also sends 115v ac to the WXR R/T mount for fan operation.
The left and right EFIS control panels (CP) send the ON/OFF data to display electronics unit (DEU) 1 and DEU 2. The DEUs make sure the navigation display is in a mode that can show WXR data. If the navigation display is in a correct mode, the DEUs send an ON/OFF discrete to the WXR control panel. The ON/OFF discrete goes through the WXR control panel to the WXR R/T. This discrete lets the WXR R/T operate.
When the WXR R/T gets the ON signal, it sends 28v dc to the power supply in the WXR control panel and 115v ac to the WXR R/T power supply.
The WXR R/T sends a 28v dc power interlock to the WXR control panel. The control panel sends the 28v dc interlock back to the WXR R/T as R/T ENABLE.
The WXR antenna gets 115v ac from the WXR R/T.
The WXR RT mount gets 115v ac from XFR bus 2 for fan test power. This permits an operational test of the fan when the RT is not installed.
Discretes
The GPWS sends an inhibit discrete to the PWS. The discrete inhibits PWS aural alerts if the GPWS alerts are a higher priority.
The PWS aural alert will stop when a higher GPWS alert is received.
The landing gear lever sends a landing gear down discrete to enable PWS during an approach.
The left and right auto throttle switch packs send discretes (QFR A) to enable the PWS function. When the throttles move through 53 degrees and the aircraft is below 2300 feet RA, the radar turns on.
The audio inhibit discrete goes to the TCAS. The TCAS uses this discrete to downgrade all RAs to TAs and inhibit all aural alerts.
---
Date: 2016-01-14; view: 1742
---