You Still Teaching?
INTRASCHOOL COMMUNICATION
FROM: 508
TO: 304
Dear Syl—
I'm returning window-pole. Thanks.
Just now, a former student dropped in to see me. "You still teaching?" he asked. Turns out he's making more money than you and I together, playing saxophone in a band. Flunked English, I think. His PPP wasn't so hot, either. Why didn't they give me piano lessons? Why did I ever learn to read?
It must be Indian summer that's making me so droopy—or the quiz on Hamlet I've been marking. Sample: "Mr. Hamlet, Sr. appears to Mr. Hamlet, Jr. as a dead ghost and bids him revenge."
Bea
* * *
INTRASCHOOL COMMUNICATION
FROM: 304
TO: 508
Dear Bea— I've been wading through a pile of "Due before 3" mimeos—but now at last I know what to do with them: into the wastebasket! I'm also hep to the jargon. I know that "illustrative material" means magazine covers,
"enriched curriculum" means teaching "who and whom," and that "All evaluation of students should be predicated upon initial goals and grade level expectations" means if a kid shows up, pass him. Right?
I'm a bit nervous about Bester's visit. He tells me he plans to "drop in" again, and suggests that this time I do not give "a written lesson on friendship" (!)
Would you let me know what you think of the enclosed lesson plan on book reports? I wish I'd had real training instead of a few Fed courses and six months of pupil-teaching. I feel so inadequate!
Are there any compensations?
Syl
* * *
INTRASCHOOL COMMUNICATION
FROM: 508
TO: 304
Of course there are! I invite you to visit my Honors class in Shakespeare, or my Creative Writing class—you wouldn't believe you were in the same school. Actually these kids would do well on their own. To me there are greater compensations when a slow student glimpses an idea, when an apathetic or hostile kid raises a faltering hand.
Don't underestimate Bester. Behind the pedagese language is a man who knows all about teaching; you would do well to attend to what he says when he comes to observe you.
Your lesson plan is excellent—except for the Emily Dickinson line: "There is no frigate like a book." The sentiment is lovely, the quotation is apt—only trouble is the word "frigate." Just try to say it in class—and your lesson is over.
Bea
INTRASCHOOL COMMUNICATION
FROM: 304
TO: 508
Dear Bea— Thanks for the tip on frigate. How about: "There is no steamship like a book"? I myself have already vetoed Channing's: "It is chiefly through books that we enjoy intercourse with superior minds."
In the meantime, I've been filling out follow-up slips on my Joe Ferone: Truant Officer reports there's no such address as the one he has given. Ella Freud says he never showed up for interview. Subject teachers claim he's been cutting classes. Nurse says he's on Dental Blacklist. And McHabe floods me with warnings.
But I'm not discouraged. I think the problem is not unreachable kids but unteachable teachers.
The Board of Ed has been Sir-or-Madaming me with the enclosed:
ELIGIBILITY TO QUALIFY FOR SALARY INCREMENT IN STEPS Cl, C2 AND C6 DEPENDS ON SUCH IN-SERVICE ALERTNESS COURSES AS MAY BE REQUIRED TO QUALIFY.
Please translate.
Syl
* * *
INTRASCHOOL COMMUNICATION
FROM: 508
TO: 304
Dear Syl—
Looking alert won't help. If you want a raise, take a course. No coursie, no money. A First Aid course will do. You don't even have to take it
—just ask the nurse to give you a paper saying you know how to apply tourniquet. Do you? Because you may need to!
As far as kids are concerned, you're on right track, but don't misjudge teachers—they're not so much unteachable as unrewarded. And even McHabe has his uses—before he came to Coolidge there was Chaos. He's trying to create order the only way he knows how. His pupil-load is 3,000 kids!
Bed
(Henrietta is looking high and low for Paul; dying to be in Faculty Show; wants him to write some lyrics for her. Do you know where he is? He looked a bit fuzzy again yesterday.)
B.
* * *
INTRASCHOOL COMMUNICATION
FROM: 304
TO: 508
Dear Bea—
I don't know where he is; he has an unassigned 1st period, but he never appears until the 2nd. Someone punches him in—right under Sadie Finch's nose. Hope she doesn't find out.
I'm treasuring her latest: "Teachers must not punch each other out."
Just saw Grayson scuttling through the main floor; so he does exist! Ferone was with him. What goes on?
Syl
* * *
INTRASCHOOL COMMUNICATION
FROM: 508
TO: 304
Dear Syl—
Ferone is not the only boy in Grayson's stable. I know several who make periodic visits to the basement. What goes on could be anything: Hashish—Racing forms—Orgies. They don't appear to be any the worse for it.
Bea
* * *
INTRASCHOOL COMMUNICATION
FROM: 304
TO: 508
Dear Bea—
Letters from the Board becoming more pressing. Now they want money from me. This is from Payroll Division:
DEAR SIR OR MADAM:
AN EXAMINATION OF THE PAYROLL RECORDS SHOWS THAT
YOU RECEIVED A SALARY OVERPAYMENT IN THE AMOUNT
OF $2.75 FOR LAST JUNE.
I wasn't even teaching in June, and I certainly don't have $2.75. Apparently they don't know I'm file # 443-817 and have got me confused with another—possibly # 443-818?
Syl
* * *
INTRASCHOOL COMMUNICATION
FROM: Mrs. B. Schachter, Lobby
TO: 304
Dear #443—
The Board moves in a mysterious way. Always did. In my day—the Depression Years—they failed a brilliant girl who would have made a great teacher—on the oral exam, for something they called "lateral emission"! They almost got me on
the "sibilant S" (that was the year they were after the S's): My Waterloo was: "He still insists he sees the ghosts."
And a friend of mine, a Millay scholar, was failed for poor interpretation of a sonnet by Millay. Her appeal was not granted, even after Edna Millay herself wrote a letter to the Board explaining that was exactly what she had meant in her poem. My friend did establish a precedent, I believe: ever since, candidates for the English license have been given poems by very dead poets, long silent in their graves.
Now, of course, things are different: they thrust the license upon anybody who can stand up and use a board eraser.
The Aide didn't show up and I'm stuck in the lobby again. Send down some cheery news!
Bea
* * *
INTRASCHOOL COMMUNICATION
FROM: 304
TO: Mrs. B. Schachter, Lobby
Dear Bea—
Cheery? I feel lost and a bit absurd—as if I were tilting at windmills which aren't there, or shouting in an empty tunnel. I keep trying to remember who I am. The Board of Ed has the same trouble.
Now they inform me that "A teacher who has exhausted his cumulative sick leave may borrow up to 20 days of additional sick leave."
Who's sick? I don't mind their lack of faith in my health; it's the Dear Sir or Madam I mind. How do I convince them I'm a Madam?
Syl
INTRASCHOOL COMMUNICATION
FROM: Mrs. B. Schachter
TO: 304
Dear Syl—
Play it cool. They'll catch on.
Bea
* * *
INTRASCHOOL COMMUNICATION
FROM: 304
TO: 508
Dear Bea,
Today I must return Odyssey and Myths & Their Meaning; someone else needs crack at them. I've had only ten school days on them, in my slow class, with half of students absent or truant, and not enough books to go around, and no help from librarian—whose note is enclosed: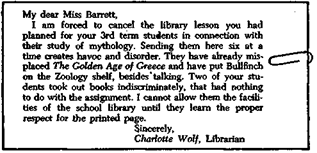 My dear Miss Barrett,
I am forced to cancel the library lesson you had
planned for your 3rd term students in connection with
their study of mythology. Sending them here six at a
time creates havoc and disorder. They have already mis-
placed The Golden Age of Greece and have put Bullfinch
on the Zoology shelf, besides 'talking. Two of your stu-
dents took out books indiscriminately, that had nothing
to do with the assignment. I cannot allow them the facili-
ties of the school library until they learn the proper
respect for the printed page.
Sincerely,
Charlotte Wolf, Librarian
Do you know Paul's song about her: "Who's Afraid of Charlotte Wolf?
I think I really got the kids interested; I made myths live for them by linking them with their own lives and with the present. To find out how much they've actually absorbed, I'm giving them a quiz next period. I've armed myself with a red pencil (over McHabe's dead body!) for correcting content, and a blue one for mistakes in spell-
ing, grammar, etc. The two-tone correction was the idea of a Fed Prof of mine in college.
What I had attempted to do was to convey the comedy of the gods against the tragedy of mortals—
Syl
* * *
INTRASCHOOL COMMUNICATION
FROM: 508
TO: 304
Dear Syl—
That may be the only way to convey tragedy: through comedy. Humor is all we've got.
Bea
---
Date: 2016-01-03; view: 436
---