Sunday roast with Yorkshire pudding
This is a traditional roast dinner with beef or lamb and a good Yorkshire pudding which should be light so you can mop up the juices of the meat.
Where to try it : Simpson's in the Strand – 100 The Strand
Fish and chips
Served with a simple wedge of lemon, fish and chips are unbeatable when nice and crispy.
Where to try it :Brady´s – 513 Old York Road
Chiken Tikka Massala
This is the UK's most popular dish and was, as legend says, created in an Indian restaurant in Glasgow. You are free to believe it or not!
Where to try it :In any curry house on Brick Lane – East London
Kedgeree
A delicious anglo-indian dish that is made by cooking basmati rice with smoked haddock, curry spices and hard boiled eggs. It is the perfect dish for Sunday brunch in London.
Where to try it :Albion Café – 2 Boundary Street, Shoreditch
Haggis, neeps and tatties
The national dish of Scotland,this is made from offel that has been boiled with oats and bran for 3 hours in a casing of sheep's stomach. Rest assured, it tastes better than it sounds! It comes served with potatoes and turnips.
Where to try it : The Canton Arms – 177 South Lambeth Road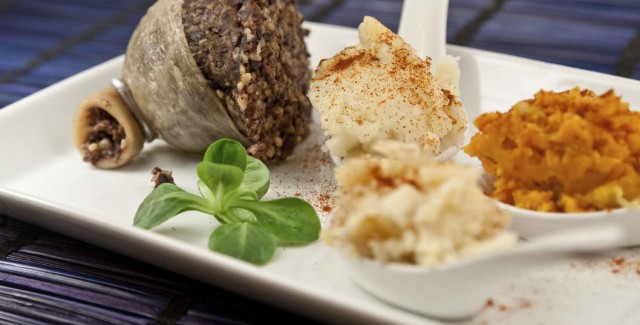 Steak and kidney pie
The most flavorsome and popular pie in the United Kingdom- enjoy with a pint in a good pub. Where to try it : The Windmill – 6-8 Mill Street, Mayfair
Stilton and walnut pie
With between 3 and 4 million Britons who do not eat meat, Britain offers great vegetarian cuisine.This blend of a nutty tart with the strong blue English cheese is simply divine!
Where to try it :Vanilla Black – 17-18 Tooks Court
Lancashire hotpot
This is one of the most famous meals from the north of England and is made up of a generous portion of lamb that is covered in round slices of potatoes then baked in a low oven for a whole day. To sample this dish- escape London and head up north!
Where to try it :The Three Fishes, Mitton, Lancashire
We hope that these 10 classic British dishes have got your mouth watering! The next time you are in a restaurant in London, you will certainly have some delicacies to try out!
---
Date: 2015-12-24; view: 586
---