th century and beyond
A male technician taking an X-ray of a female patient in 1940. This image was used to argue that radiation exposure during the X-ray procedure would be negligible.
The many applications of X-rays immediately generated enormous interest. Workshops began making specialized versions of Crookes tubes for generating X-rays and these first-generation cold cathode or Crookes X-ray tubes were used until about 1920.
Crookes tubes were unreliable. They had to contain a small quantity of gas (invariably air) as a current will not flow in such a tube if they are fully evacuated. However, as time passed, the X-rays caused the glass to absorb the gas, causing the tube to generate "harder" X-rays until it soon stopped operating. Larger and more frequently used tubes were provided with devices for restoring the air, known as "softeners". These often took the form of a small side tube which contained a small piece ofmica, a mineral that traps relatively large quantities of air within its structure. A small electrical heater heated the mica, causing it to release a small amount of air, thus restoring the tube's efficiency. However, the mica had a limited life, and the restoration process was difficult to control.
In 1904, John Ambrose Fleming invented the thermionic diode, the first kind of vacuum tube. This used a hot cathode that caused an electric current to flow in a vacuum. This idea was quickly applied to X-ray tubes, and hence heated-cathode X-ray tubes, called "Coolidge tubes", completely replaced the troublesome cold cathode tubes by about 1920.
In about 1906, the physicist Charles Barkla discovered that X-rays could be scattered by gases, and that each element had a characteristic X-ray. He won the 1917Nobel Prize in Physics for this discovery.
In 1912, Max von Laue, Paul Knipping, and Walter Friedrich first observed the diffraction of X-rays by crystals. This discovery, along with the early work of Paul Peter Ewald, William Henry Bragg, and William Lawrence Bragg, gave birth to the field of X-ray crystallography.
The Coolidge X-ray tube was invented during the following year by William D. Coolidge. It made possible the continuous emissions of X-rays. X-ray tubes similar to this are still in use in 2012.
Chandra's image of the galaxy cluster Abell 2125 reveals a complex of several massive multimillion-degree-Celsius gas clouds in the process of merging.
The use of X-rays for medical purposes (which developed into the field of radiation therapy) was pioneered by Major John Hall-Edwards in Birmingham, England. Then in 1908, he had to have his left arm amputated because of the spread of X-ray dermatitis on his arm.[85]
The X-ray microscope was developed during the 1950s.
The Chandra X-ray Observatory, launched on July 23, 1999, has been allowing the exploration of the very violent processes in the universe which produce X-rays. Unlike visible light, which gives a relatively stable view of the universe, the X-ray universe is unstable. It features stars being torn apart by black holes, galactic collisions, and novae, and neutron stars that build up layers of plasma that then explode into space.
An X-ray laser device was proposed as part of the Reagan Administration's Strategic Defense Initiative in the 1980s, but the only test of the device (a sort of laser "blaster" or death ray, powered by a thermonuclear explosion) gave inconclusive results. For technical and political reasons, the overall project (including the X-ray laser) was de-funded (though was later revived by the second Bush Administration as National Missile Defense using different technologies).
Golden Doodle dog hip xray posterior view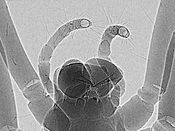 Phase-contrast x-ray image of spider
Phase-contrast X-ray imaging refers to a variety of techniques that use phase information of a coherent x-ray beam to image soft tissues. It has become an important method for visualizing cellular and histological structures in a wide range of biological and medical studies. There are several technologies being used for x-ray phase-contrast imaging, all utilizing different principles to convert phase variations in the x-rays emerging from an object into intensity variations.[86][87] These include propagation-based phase contrast,[88] talbot interferometry,[87] refraction-enhanced imaging,[89] and x-ray interferometry.[90]These methods provide higher contrast compared to normal absorption-contrast x-ray imaging, making it possible to see smaller details. A disadvantage is that these methods require more sophisticated equipment, such as synchrotron or microfocus x-ray sources, X-ray optics, and high resolution x-ray detectors.
Visibility
While generally considered invisible to the human eye, in special circumstances X-rays can be visible. Brandes, in an experiment a short time after Röntgen's landmark 1895 paper, reported after dark adaptation and placing his eye close to an X-ray tube, seeing a faint "blue-gray" glow which seemed to originate within the eye itself.[91] Upon hearing this, Röntgen reviewed his record books and found he too had seen the effect. When placing an X-ray tube on the opposite side of a wooden door Röntgen had noted the same blue glow, seeming to emanate from the eye itself, but thought his observations to be spurious because he only saw the effect when he used one type of tube. Later he realized that the tube which had created the effect was the only one powerful enough to make the glow plainly visible and the experiment was thereafter readily repeatable. The knowledge that X-rays are actually faintly visible to the dark-adapted naked eye has largely been forgotten today; this is probably due to the desire not to repeat what would now be seen as a recklessly dangerous and potentially harmful experiment with ionizing radiation. It is not known what exact mechanism in the eye produces the visibility: it could be due to conventional detection (excitation of rhodopsin molecules in the retina), direct excitation of retinal nerve cells, or secondary detection via, for instance, X-ray induction ofphosphorescence in the eyeball with conventional retinal detection of the secondarily produced visible light.
Though X-rays are otherwise invisible, it is possible to see the ionization of the air molecules if the intensity of the X-ray beam is high enough. The beamline from thewiggler at the ID11 at the European Synchrotron Radiation Facility is one example of such high intensity.[92]
---
Date: 2015-12-24; view: 1086
---