Copy files to SD from PC
User Guide
Welcome to use GoodExplorer 2.1! As a great app, it focuses on helping you to manage your files. Currently it supports the following 5 folders:
Local Storage: It is unique to GoodExplorer because it contains the isolated storage files/folders. It is writable, so users can do ordinary operations, such as creating, deleting or moving file/folder and so on. It is empty when first using GoodExplorer. Also user can use FileTransfer functionality to synchronize PC files to this folder or copy files from SD card and SkyDrive to this folder.
SD Card: It contains the files in SD card, user need to modify the file extension to ensure the files visible (generally add a suffix y). For detail, please follow the below table! Since Microsoft limited files/folders on SD card read-only, user can't create, move and delete them.
Skydive: It contains all files/folders in your Skydive. User needs to login in it with windows live ID. Then it allows user to manage folders/files on the Skydrive. And user could copy files/folders from SD card and local storage to SkyDrive.
Photos: It is a photo library provided by windows phone. All of your pictures in SD card or phone storage can be shown here, except the isolated storage belonged to apps.
Music: Similar as Photos, it is a collection of music on your WP.
With this app, user can read office documents, PDFs and eBooks, and also listen to the music and watch video for free.
File encryption functionality help user to protect file from being accessed without permission.
Please read the help doc carefully, since it can help you to use good explorer easily, and deeply understand the limitations of windows phone.
We have a great pressure to develop file explorer for windows phone. Because of so many limitations of WP platform, it's hard to develop perfect functionalities. Wish Microsoft could provide a powerful platform, and give us more privileges in windows phone8.1. Wish you love this app, and share it around you.
FQA
Why can I only see folders, but no files in SD?
It requires you to add a "y" to file extension because of WP limitation. Please refer to section 3, the PC client of GoodExplorer also can help you modify file extension automatically . Please download the PC client of GoodExplorer at
www.wandousi.com/zyeng.htm
Why can't add SD card page to pivot
Because you have no SD card
Why is there no Video and Document library?
WP SDK doesn't provide API to access Video and Document library. There are two ways to view documents and videos. One is copying your documents or videos to SD card after modifying file extension, remember do not put these files in folders Documents, Music, Pictures, Videos; the other is that you can use WIFI Transfer functionality to synchronize PC videos and documents files to Local Storage. 
Why local storage page only has help.doc file, when using GoodExplorer at the first time?
WP has an isolated storage rule, and it doesn't allow accessing other apps' files and folders.
Why certain types of files can't be shown?
It only supports about 20 types of file now.  Please be patient, we will try our best to support more types in near future.
Copy files to SD from PC
As mentioned before, you have to modify file extensions before copying your files to SD card. Please follow the below table. The other option is that you can download PC client of GoodExplorer to help you modify files extension with one click. Please do not place files in folders Documents, Music, Pictures, Videos.
Page Configurable
In v2.0, we add a new functionality to allow user configure the page, user could add favorite function page to the pivot of main page, and of course also could remove any function page from main page. Please hold the function in "More Functions" page as below picture shown, it will popup the context menu to allow user operate. User also could pin the function to start screen, and start separate function from live title.
File Operations
For "Local Storage" and "Skydrive" page, hold the file, a context menu will be popup, and user could do single file operation, such as copy, cut, hide, delete, move, rename, and encryption. User not only could copy/cut/paste file/folder to other folder of self page, also could copy/cut/paste the file/folder to folder of other pages. For example, copying file from SD to Local, or copying files from Local to Skydrive, also could copy files from skydrive to local, but SD is read-only, so can't copy files to SD card, also couldn't delete/move/rename file/folder in SD card. Please see below pictures.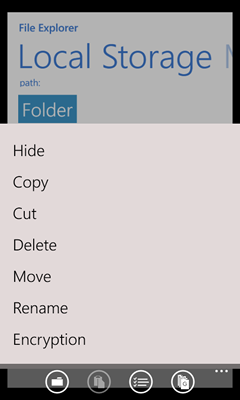 User could do multiple file operations with the commands of application bar. Firstly click "multiselect" command, the page will change to multiple selection mode, and allow user select more than one files, then user can do other operations to selected files.
User also could group the file/folder, it provides two methods, one is grouping by file type, other one is grouping by prefix letter of file/folder name, please take a look at the below pictures.
---
Date: 2015-12-17; view: 867
---