LANGUAGE EXTENSION. VOCABULARY.
http://www.macmillandictionary.com/
| | | | |
| --- | --- | --- | --- |
| Adjective (meaning) | Opposite | Synonyms | Opposites |
| Relevant - | irrelevant | suitable; appropriate; | unsuitable; inappropriate; |
| Vital - | | essential; crucial; critical; important; | inessential; unimportant; |
| Succinct | | | |
| Tough | | | |
| Patient | | | |
| Successful | | | |
| | | | |
| | | | |
| | | | |
| | | |
| --- | --- | --- |
| Noun (meaning) | Opposite | Synonyms and collocations |
| Goal | | target; aim; purpose; objective; to set/achieve one's objective |
| Feature | | |
| Feedback | | |
| Advantage | disadvantage | drawback; pros & cons; shortcoming; downside; |
| Success | | |
| | | |
| | | |
CONCLUSION
| | | | | | |
| --- | --- | --- | --- | --- | --- |
| Types of Negative Prefixes | Examples | Part of Speech | What letter does the root begin? | What letter does the prefix end? | RULE |
| | | | | | |
| | | | | | |
| | | | | | |
| | | | | | |
| | | | | | |
| | | | | | |
| | |
| --- | --- |
| Verb (meaning) | Synonyms and collocations |
| To thrill | excite |
| To motivate | |
| To succeed in | |
| To go the extra mile for | |
| | |
Then, how to make other people (investors or venture capitalists) interested in our business idea? There is such a thing as 'elevator pitch' – a concise, carefully planned description about your business idea or company that everyone can understand in the time it takes to ride up an elevator (1-2 min). The Perfect (Elevator) Pitch

http://www.businessweek.com/careers/content/jun2007/ca20070618_134959.htm 'It's a skill every businessperson needs. How to create it, rehearse it, and tailor it for a specific audience.'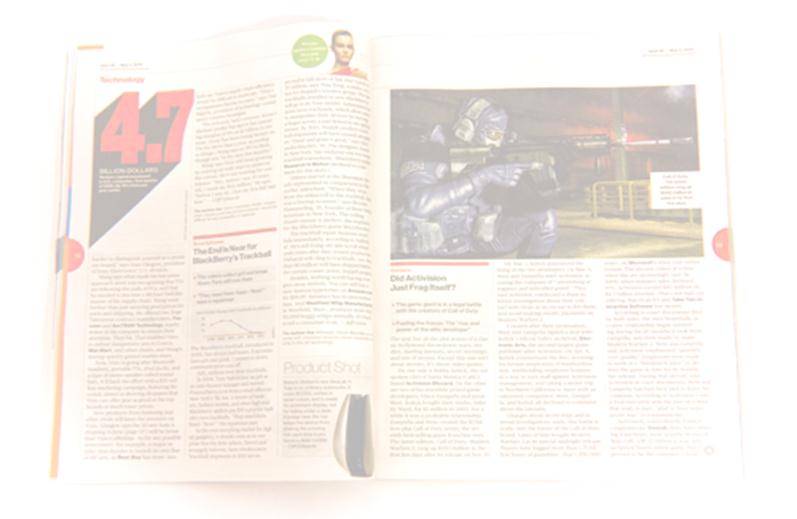 1. The first goal of any meeting is to get a second one. In the short time you have, you must interest and highlight what makes your offer unique.
This is not the format to begin a story. Think about the most vital features you company or offer has and make sure those are relevant to the here and now.
1. It's important to provide substantial information about the company you work for.
A. B. C.
TRUE FALSE DOESN'T SAY
2. Your pitch is far more likely to be successful if you know your target and your listeners' needs. There are many things you could say about what your business is or might be. However, choose those things you know are of most interest to your listeners — what your service or product can do for them.
2. The pith will be probably more brilliant and distinguished if the speaker realizes what he/she aims at and the audience interests.
A. B. C.
TRUE FALSE DOESN'T SAY
3. Don't spend too much time highlighting your own achievements unless they are relevant to the here and now. They'll have plenty of time to find out about you if you end up with a working relationship.
3. While making a pitch, one should speak about his/her attainments just in case they are to the point of the topic.
A. B. C.
TRUE FALSE DOESN'T SAY
4. You don't want to say anything you're not comfortable with. So stick only to the points and especially figures you can really speak confidently and well. Don't use slang or industry jargon unless you know your listener is comfortable with it. Stay away from words every business uses, such as "customer-focused" and "uniquely positioned."
4. When using the visual aids, be sure the font is large enough so that the figures are quite distinct.
A. B. C.
TRUE FALSE DOESN'T SAY
5. Concentrate on actual examples of how you're 'customer-focused' or 'uniquely positioned'. Talk about the client you recently went the extra mile for; the problem that looked impossible until you got involved; the buyer who was thrilled with the result.
5. It's not really necessary to submit factual information or any exact details.
A. B. C.
TRUE FALSE DOESN'T SAY
6. Careful preparation is the key to confidence. Remember, the first impression happens only once. Respect your audience enough to prepare really well; that includes arming yourself with succinct answers to the toughest questions that might follow your pitch. Be flexible enough to be guided by your listeners and their reaction to what you're saying. If he or she interrupts with questions, make sure you answer them.
6. To be on the safe side it's better to write down all possible questions that may appear and answers to them.
A. B. C.
TRUE FALSE DOESN'T SAY
7. Focus on the problem you solve for the listener — the solution you are offering to their specific need. If your audience has to ask, "How does this help me?" or "Why should I care?" you're in trouble.
7. It's quite reasonable to pay attention to the difficulty that can be carried off for the potential investor.
A. B. C.
TRUE FALSE DOESN'T SAY
8. Contrary to popular opinion, facts actually don't speak for themselves. They can move heads, but you'll need something more if you expect your listener to be motivated to take some action. Let your listener hear the enthusiasm in your voice and your words. Let them see your involvement via direct eye contact and confident body language.
If you want to move someone to take action, you have to show them you care.
8. The speaker should stay calm without being exceedingly excited as it might be a little impolite.
A. B. C.
TRUE FALSE DOESN'T SAY
9. Clear speaking shows clear thinking. Even if your pitch is one you have used regularly, get some feedback from a coach or a trusted source on how to improve it.
9. A person who gives a pitch is supposed to practice it regularly both alone and in front of some friends or colleagues.
A. B. C.
TRUE FALSE DOESN'T SAY
10. Under the best of circumstances, people have limited attention time. The fact that you have to deliver a quick pitch—whether because of an unexpected meeting, a change of plans, the impatient client who says, "Walk with me"—you're already at a disadvantage. In the wise words of Winston Churchill, "Be clear. Be brief. Be seated."
10. When one has to deliver the pitch all of a sudden it's already a downside.
A. B. C.
TRUE FALSE DOESN'T SAY
Now, please, choose any point (paragraph) from the text to write a memo (30-40 words) as if you wanted to remind your a bit less experienced colleague about it.

So, friends, as the result of the Unit, we're going to try to create our first 'elevator pitch'. In order to do that, you'll have to:
· Invent as many good ideas as you can and this isn't simple http://www.startups.co.uk/ might help you;
· Select two best ideas (as there'll be two projects) and start developing them;
· Draft your answers to the questions below;
· Correct and edit them so that they fit the 'elevator pitch' pattern;
· Fill in and present your 'elevator pitch' (about 150-225 words).
I. First answer these questions (do your best to present the idea in the most attractive and succinct way):
1. What is your product or service? Open your pitch by getting the Investors' attention with a 'hook' - a statement or question that piques their interest to want to hear more.
2. Who is your market?
3. What is your revenue model? http://www.thorschrock.com/2009/08/28/what-revenue-model-business-fail-without/
4.Who is behind the company?
5. Who is your competition?
6. What is your competitive advantage? At the end of your pitch, you must ask for something. Do you want their business cards or to schedule a full presentation or to ask for a referral?
http://www.youtube.com/watch?v=i6O98o2FRHw
http://www.videojug.com/film/how-to-do-an-elevator-pitch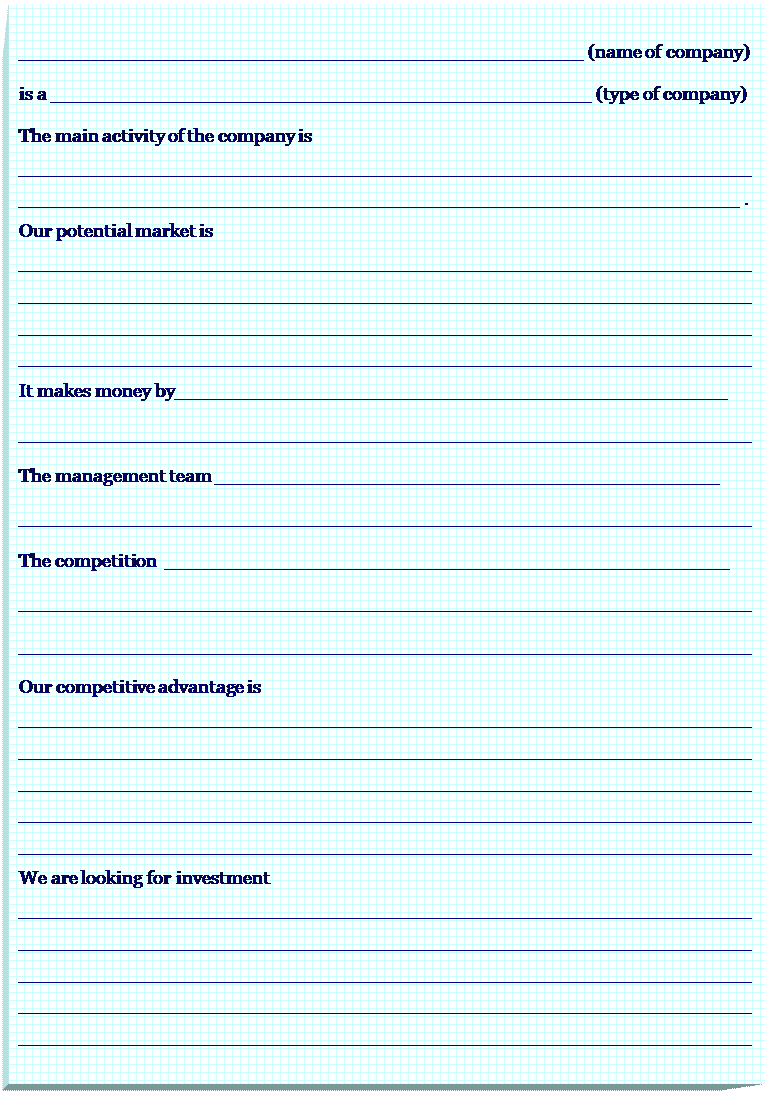 ---
Date: 2015-01-29; view: 712
---