Krakatau, Indonesia
In 1883, humanity witnessed what scientists call a "caldera-forming eruption" in Indonesia. In plain English, we call that a mountain blowing itself apart.At 200 megatons of explosive power, the eruption was four times more powerful than the biggest nuclear bomb ever detonated. Since the volcano and island were one and the same, there wasn't much left after the explosion rocked the Sunda Strait and sent 100-foot-high tsunamis and scalding ash flows ashore up to 25 miles away. In the ruined void the volcano left behind, a new island has been growing back (through a series of much smaller eruptions) and is now around 1,000 feet high.
5. Ra Patera, Io, Jupiter's Moon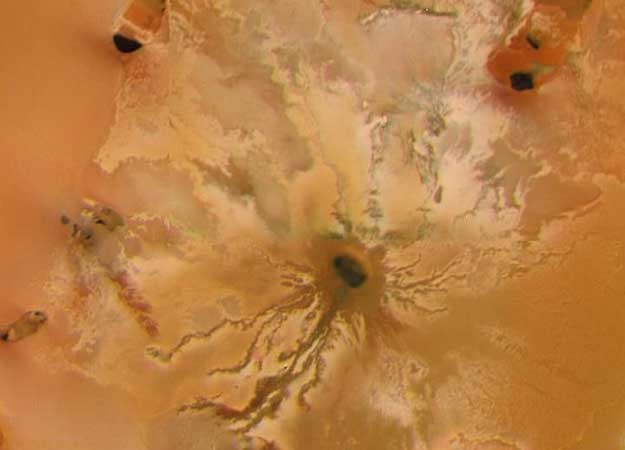 Thanks to space exploration, the list of greatest volcanoes can no longer be restricted to Earth. In 1979 the Voyager space probe made a shocking discovery -- Jupiter's moon Io was pock-marked with active volcanoes.
Voyager's snapshot of Ra Patera was the first discovery of an active extraterrestrial volcano, though the bigger vents Loki and Pele were discovered soon after.
But it didn't make sense.Io is about same the size as Earth's moon, which long ago froze in the vacuum of space. So why was it still active? As scientists soon learned, Jupiter's intense gravity was tugging on Io's innards, creating such heat that the moon was literally disemboweling itself, spewing sulfur-rich lavas all over the surface of the moon, and out into space.
---
Date: 2015-01-29; view: 1176
---