CLOTHES AND FASHION
LESSON 25
(2 hours)
LEVEL 1
Task 1. Make up 10 interrogative sentences with the words from your active vocabulary.
LEVEL 2
Task 2.
Choose the correct answer.
1. That's a very ....... suit you are wearing. Is it a new one?
proper
smart
tasty
well-dressed
2. I'm the only one at this party in a long dress — I feel quite out of ....... .
order
place
practice
turn
3. Long dresses are in ....... again.
craze
form
mode
fashion
4. He couldn't find two that matched, so he was forced to wear ....... socks.
mixed
odd
uneven
unlike
5. It is a good idea to be ....... dressed when you go for an interview.
boldly
clearly
finely
smartly
6. It was not a grand occasion, so we were asked to wear ....... clothes.
cheap
informal
simple
unofficial
7. My wife has excellent ....... in clothes.
choice
flavor
gusto
taste
8. I'm afraid those clothes are not at all ....... for the occasion.
fitted
matching
suitable
suiting
9. I must get a new suit, because this one is completely ....... .
finished
run out
used up
worn out
10. Those new dresses may be striking but that sort of ....... does not suit everyone.
fashion
form
model
mood
11. Wearing odd socks would be classed as ....... behavior.
eccentric
ecstatic
erotic
exotic
12. She studies many magazines and books about fashion, entertaining and social behavior as she wants to appear .......
elegant
fashionable
polished
sophisticated
13. My friend came to the party wearing a shabby old suit, worn-out shoes and no socks. He looked just like a ....... .
criminal
merchant
prisoner
tramp
14. When I was invited to a .......-dress party last week, I went as an angel and I wore a beautiful two-winged costume.
fancy
funny
historical
masquerade
Task 4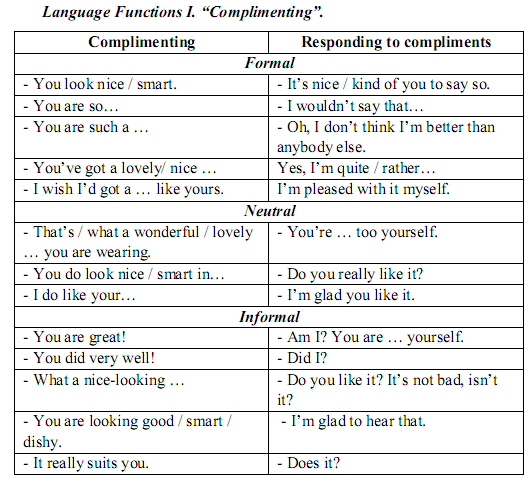 Task 4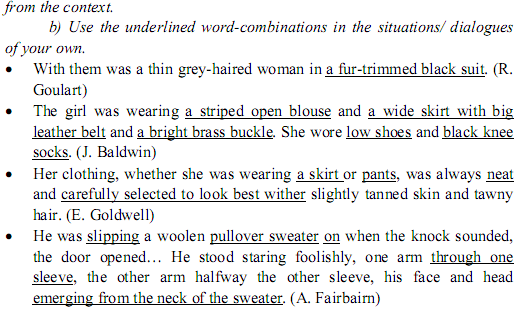 Task 5.

LEVEL 3
Task 5. Listen to the tape and write the script of the dialogue "I haven't got anything to wear".
Task 5.Read the text abut Belarus Fashion Week. Be ready to discuss the text. Before reading the text make sure you know the words below.
runway show to gain
catwalk to present and promote
consumer to highlight
fashion market to look forward to
November, 4 became the last day of the runway shows of Belarus Fashion Week SS 2013 – the project that has been gathering the Belarusian professional fashion audience for 5 seasons already.
The fifth edition of Belarus Fashion Week Spring-Summer 2013 took place on October 30 - November 4, 2012 in Minsk. The fashionable people got a chance to attend the runway shows of the best Belarusian and foreign designers on the main catwalk located in the very heart of the capital, in the Palace of Fine Arts (Kozlova St. 3).
All guests of BFW were able to enjoy the new Spring-Summer collections by the leading Belarusian designers TARAKANOVA, FUR GARDEN, RadaStyle, Harydavets&Efremova, Natalia Gaidargy, Davidova, Natasha TSU RAN, KUCHERENKO, BOITSIK, FELICITY by Ivan Aiplatov, Historia Naturalis, LUDMILA LABKOVA, CYRILLE GASSILINE, ULYA LATUSHKINA.

Ivan Aiplatov

Natasha TSU RAN

CYRILLE GASSILINE
The Organizing Committee BFW supports young designers and promotes them on the professional level.
Many international journalists prepared the materials about Belarus Fashion Week after attending it – this season the Organizing Committee BFW cooperated with Italian, British, Russian and Ukrainian media. The interest of the international audience is growing each season, which certainly highlights the quality of the event holding and the improving design of clothing in the whole country. The audience of the fashion shows varies from season to season, moving in the direction of the professional one - direct consumers of fashion in all its forms.
"Belarus has an developing fashion market that has gained much acclaim world-wide in a short amount of time and it is a great opportunity for the Belarusian talents to show to the world the beauty of their culture and their works through the Fashion One network. Belarus Fashion Week is one of the most professional fashion week organizations we have worked with, and Fashion One looks forward to continuing the partnership." said Ashley Jordan, CEO of Fashion One.
"Belarus Fashion Week is quite young (Spring/Summer 2013 will be its 5th season) but we have already earned popularity and respect from the professional fashion weeks in Europe. For now our main aim is to ourselves internationally in the best possible way, and our partnership with Fashion One, being the most competent fashion and entertainment TV channel, makes a valuable contribution to this process. We highly appreciate the support rendered by Fashion One in the previous season Fall-Winter 2012-2013, and we hope for mutually successful cooperation in the upcoming one." states Yanina Hancharova, CEO of Belarus Fashion Week.
LEVEL 4
(choose one – any you like)
Task 6.What Belarusian designers, fashion brands and festivals do you know?
Task 7. Make up a presentation about one of the Belarusian designers.
Task 8. Make up a conversation between wife and husband; choose 5 items of clothes in a shop for her/him (use listening as an example).
---
Date: 2015-01-29; view: 1350
---