The Past and the Present of the Institute of Chemical Technology, Prague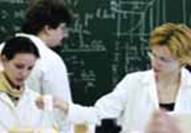 The Institute of Chemical Technology (ICT), Prague is a ……………. university providing education and ……………. scientific research, development and ……………. activities. The ICT Prague is known for both the ……………. and broadness of its educational and research activities in almost all ……………. of chemistry, chemical engineering, food chemistry and technology, biochemistry, refining, water-treatment, power and biological sciences and technologies, as well as environmental protection, materials sciences and other chemistry-based fields of study.
The ICT Prague turned out a number of ……………. chemists, among them Professor Otto Wichterle, the inventor of soft contact lenses in the 1950s. Vladimír Prelog, professor at the ETH Zürich who won the Nobel Prize for Chemistry in 1975, graduated from the School of Chemical Technology in 1928, and he gained his PhD ……………. there several years later.
The ICT Prague consists of four faculties, Faculty of Chemical Technology, Faculty of Environmental Technology, Faculty of Food and Biochemical Technology, Faculty of Chemical Engineering, and ……………. accommodating the needs of all ICT Faculties.
The ICT Prague ……………. comprises almost 780 ……………., including about 40 professors, 100 associate professors, and 280 assistant professors and assistants. The Faculties of the ICT are accredited to provide three-year Bachelor programmes, ……………. two-year Master programmes (ending with the award of the academic title Engineer), and PhD programmes. The total ……………. at the ICT Prague is about 2,500 Master and Bachelor students and more than 600 PhD students.
The ICT Prague operates a ……………. equipped Central Library, which contains more than 100,000 volumes of books, handbooks, encyclopaedias, periodicals and other publications. The Library subscribes to some 300 professional periodicals and has an electronic access to scientific journals.
Several pieces of ……………. and most up-to-date scientific equipment are located in the Central Laboratories, which ……………. services to all Faculties in implementing scientific projects as well as in teaching postgraduate students.
Study programs and branches
The Institute of Chemical Technology, Prague (ICT Prague) offers the following types of study programmes:
a. ……………. programme lasts for three years. Study programmes at all faculties are based on core courses embracing general subjects. Graduates are awarded the title "Bachelor" (equivalent to BSc)
b. ……………. programme links up to BSc programme and takes 2 years. It comprises core and specialized courses. Studies lead to the "engineer" degree ("inženýr" in Czech, equivalent to an MSc)
c. ……………. doctoral studies leading to a PhD degree lasting three years beyond master studies
Bachelor programmes:
FACULTY OF CHEMICHAL TECHNOLOGY
Study programme
Study sub-programme
Applied Chemistry and Materials
Chemistry and Chemical Technologies
Chemistry and Technology of Materials
Chemistry and Applied Ecology
Informatics and Chemistry
Chemistry of Materials for the Automotive Industry
Drug Synthesis and Production
Drug Synthesis and Production
Conservation-Restoration of Cultural Heritage Objects – Works of Arts and Crafts
Technology of Conservation-Restoration
Conservation-Restoration of Metallic Works of Arts and Crafts
Conservation-Restoration of Glass and Ceramic Works of Arts and Crafts
Conservation-Restoration of Textile Works of Arts and Crafts
Biomaterials for Medical Purposes
Biomaterials for Medical Purposes
Forensic Analysis
Chemistry and Materials in Forensis Analysis
FACULTY OF ENVIRONMENTAL TECHNOLOGY
Study programme
Study sub-programme
Environmental Technology
Environmental Chemistry and Technology
Fuel and Environmental Chemistry and Technology
Alternative Energies and the Environment
Environmental Chemistry and Toxicology
Environmental Analytical Chemistry
FACULTY OF FOOD AND BIOCHEMICAL TECHNOLOGY
Study programme
Study sub-programme
Food and Biochemical Technology
Food Technology
Food Chemistry and Analysis
Biochemistry and Biotechnology
Drug Synthesis and Production
Drug Biotechnology
FACULTY OF CHEMICAL ENGINEERING
Study programme
Study sub-programme
Engineering and Management
Process Engineering, Informatics and Management
Technical, Physical and Analytical Chemistry
Engineering Informatics
Engineering Informatics
Chemistry
Chemistry
Nano- and Micro-Technology in Chemical Engineering
Nano- and Micro-Technology in Chemical Engineering
Drug Synthesis and Production
Drug Analysis
Master programmes:
---
Date: 2015-01-12; view: 1486
---