B) Read the following passage, comment on it and answer the questions.
Words and Word Combinations to the Text
a) Torch; torchbearer; runup; to inspire smb; UNICEF; determination; encouragement; to retire; lifeguard.
b) Torch Relay; brand new; to blaze a trail; aquatics skills; gold (silver, bronze) medal; to be switching to (running); to reach one's potential; to be perfecting one's talents on sth; to make one's debut as…; a victorious run.
TEXT
More than 60 Special Olympics athletes and coaches were named official Olympic Torchbearers in the runup to the 2012 London Summer Olympic Games. Nominations were made based on each person's ability to inspire others. Plus, they had to be able to run!
Stephanie Handojo practicing for London's 2012 Olympic Torch Relay.
Determined to Show the World
Special Olympics athletes inspire everywhere they go, and this year, some are inspiring brand new audiences. As excitement builds for this summer's London 2012 Olympics, several Special Olympics athletes are blazing a trail as part of the 70-day Olympic Torch Relay during the runup to the Summer Games.
Stephanie Handojo is known for her aquatics skills and won a gold medal at her first Special Olympics World Games last year in Athens, Greece. But this month, she's switching to running, as she takes up the Olympic torch on its way through Nottingham, England. Stephanie, who has Down syndrome, has come into her own since joining Special Olympics. UNICEF nominated the Indonesian swimmer because of "her determination, and her success." A UNICEF spokeswoman calls Stephanie "a true role model" who has "demonstrated that all children, regardless of ability or circumstances, can reach their potential when given the right opportunity, support and assistance."
In addition to her skills as an athlete, Stephanie has been perfecting her talents on the piano. She even holds a record for playing 22 songs within 2 hours on the piano. She's coming from half a world away to take part in the Relay, and will be accompanied on her run by Alex Eustace, a tennis player who won gold and silver at last year's World Summer Games in Athens.
Inspired to Run
Several other Special Olympics athletes from Ireland and Great Britain are also taking part in the Torch Relay. They include Daniel Bendle, who made his debut as an Olympic torchbearer earlier this month. Daniel had a special motivation to do his best in the London 2012 Olympics Torch Relay: he was running in memory of his mother, who died two days before the event. David said, "I ran for my mum, (because) I know she would be smiling."
Daniel has been swimming with Special Olympics since he was 11 years old. Now 20, he's been encouraged to take his skills to the next level. Daniel has found work as a lifeguard and swim coach for people with and without disabilities. Says Daniel, "Special Olympics have introduced me to a whole new world. I have made so many friends and become part of something."
Daniel is one of 10 Special Olympics athletes chosen for the Torch Relay through the Coca-Cola Future Flames campaign. Among them is Omar Haddad, a gymnast who won five gold medals at last year's World Summer Games in Athens. Omar is also star of an award-winning short film that illustrates how encouragement can help people with disabilities transform their lives through sport. In all, more than 60 Special Olympics athletes and coaches have been chosen as Olympic Torchbearers, including Jacqueline Minchin, a swimmer and part-time clerical assistant who is also a spokesperson for employment of people with disabilities. Coaches chosen to take part include Val Hanover, a winner of BBC's Sports Personality of the Year "Unsung Hero Award." She is retiring after three decades of dedicated work with Special Olympics athletes. Val is definitely leaving on a high note, especially after her victorious run with the Olympic Torch Relay.
www.specialolympics.org/.../Special_Olympics_Stories_from_Around_the_ World.aspx
c) Questions to the Text:
1. What is the essence of the trail inspired by a number of athletes?
2. What was Stephanie Handojo remembered in last year's Athens for?
3. Who nominated Stephanie for taking up the Olympic Torch and how did they motivate their choice?
4. Whom is Stephanie accompanied by on her way? What are his sports achievements?
5. Why was Daniel Bendle inspired to run? How was he succeeding in sport?
6. How many other torchbearers were chosen as torchbearers and which of them are mentioned in the article?
D) Look at the pictures below. Define each kind of sport; speak about the armour, the rules of each game, the playing area, etc. Use the topical vocabulary while discussing the pictures.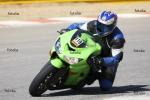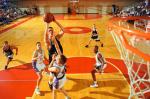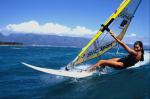 IX. Conversational Situations
1) Telling a story. Prepare a piece of information about some kind of sport or game and supply it with names of the sportspersons who represent this activity (make sure your topic differs from other students). Saturate your story thoroughly with the topical vocabulary. Tell it in the class to other students and be ready to answer their questions.
---
Date: 2016-03-03; view: 340
---