Fat asses face donkey ban
FAT youngsters will be banned from riding Blackpool's famous donkeys from today.
Council officers will patrol the sands to make sure no child over eight stone rides one of the resort's 100 animals.
The new rule is in addition to the 60-year-old Donkey Charter which makes sure the mules get meal breaks, days off and check-ups.
Yesterday a Town Hall spokesman said: "It is fact that children are getting bigger.
"We are not spoilsports but it is cruel to donkeys to have to carry a child who is obese."
Stone me ... weight restrictions on donkey rides
Reader submissions
1) Donkeys can easily carry the weight of a full grown man. I think this is complete prejudice toward children who are a bit overweight. Blackpool, you should be ashamed!
2) Good move, get the little fat slobs to walk!
3) ABSOLUTELY RIGHT, WHY SHOULD THESE GORGEOUS ANIMALS HAVE TO CARRY THE BIG FAT SLOBS ANYWEHERE, LET THEM WALK THEMSELVES INDEED, DON'T PUT THEIR FAT WEIGHT ON THESE ANIMALS, LET US HOPE THE BAN WILL STAY, IT HAS NOTHING TO DO WITH PREJUDICE, IT HAS EVERYTHING TO DO WITH THE WELFARE OF ANIMALS...
4) I totally agree, the last thing a donkey wants to do is carry chunky butts up and down the beach.
5) Make the fat kids carry the Donkey!
Vocabulary:
stone –
spoil-sport -
That spoil-sport Hetty came in and rudely interrupted us. —
move -
clever move, smart move —
decisive move —
Selling your car was a good move. —
slob -
chunky –
Who ate all the swans?
PILES of swan carcasses stripped for food have been found at a squalid camp used by East European immigrants.
The Sun called in police and the RSPCA yesterday after locals revealed how the royal birds are being illegally slaughtered and their pitiful remains discarded.
Anglers and walkers are horrified by the carnage beside the River Lea in East London – where the migrants pitchmakeshift tents on the site of the 2012 Olympics.
One swan was discovered yesterday with its wings snapped off. Bones and feathers lay close to a tent next to pots, pans and cooking oil.
Angler David Gibson, 42, said he saw a pile of swan wings piled in the camp on Tuesday.
He said: "It's vile. You could see where they'd snapped off the wings and plucked them before cooking.
"These swans belong to the Queen and for someone to come here and butcher them is a disgrace. It makes me sick to my stomach.
"I have heard it is mostly Eastern Europeans who are camping there until they can get a house."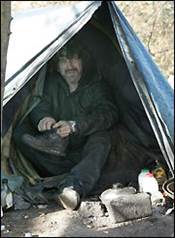 ---
Date: 2016-03-03; view: 1875
---