Recreation and shopping.
Why is it worth to visit Astana?
In my first blog I wrote about my first impressions in Astana. I stated that Astana has many opportunities as disadvantages. In this blog, I want to tell about my impressions about interesting places in Astana and share some of my experiences which I had for two months. I want to give brief information about some entertainment and shopping centers, places which can spend exciting time.
The thing that I really loved in Astana is the ability to spend your time effectively and with fun. You can spend an exciting time with your friends, relatives and girlfriend.

Overall view to Astana1
Recreation and shopping.
Every tourist or visitor after some weeks spent in Astana will say that this is a very good place for rest, entertainment, and shopping. It is obviously true because there are all conditions for an unforgettable holiday for everyone.
I can surely say that Astana is paradise for lovers of shopping. Khan-Shatyr, Asia Park, MEGA, Keruen, Saryarka, etc. are the best points for good trade. There you can find stores of any popular brands of clothes, bijouterie and jewelry2. In markets such as Technodom, Sulpak, Alser, Evrika customers can get any household appliances, computers, and electrical devices. They can be found in any shopping mall.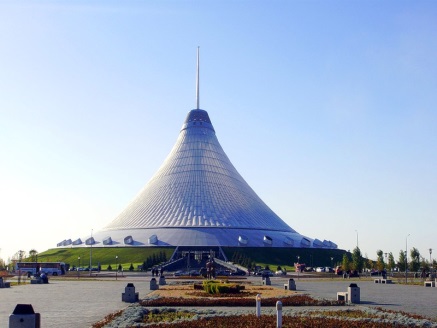 Keruen3 Khan-Shatyr4 MEGA5
However, there are some issues related to service in shopping and entertainment centers. About three weeks ago I had a little funny situation with my brothers. We pretended foreign customers and tried to buy some clothes in a New Yorker boutique in Khan-Shatyr and spoke in English. But to our surprise, any of the sellers could not serve us. They tried really hard translating words with the help of cell phones. This was really funny. But after some minutes they realized that we were just kidding and swore us.
In my opinion in the megalopolis like Astana we must not problems with service. If we want to attract more visitors, we must have service with high quality.
Sports events.
If you are a fan of the sport, an exciting holiday is waiting for you in Astana. You can go to cycle track, football stadium or to the hockey arena.
Most of sports centers are situated close to each other. Also, they are only 10-minute walk from our university.
Nowadays Astana-Arena is one of the most favorite places of football fans, because our national football team "Astana" qualified UEFA Champions League.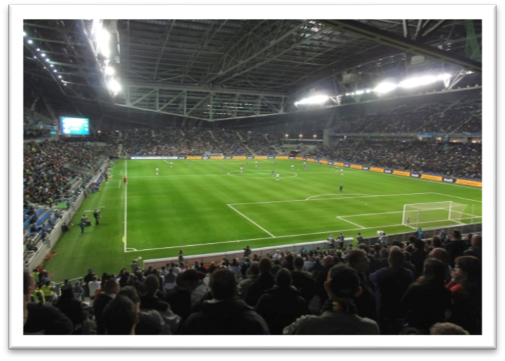 Astana-Arena7
Barys-Arena6
Everyone who has chance wants to support "Astana FC" in matches of this tournament.
Unfortunately, I could not visit any match of this UCL. But I heard that there is unbelievable atmosphere inside the stadium.
Also, there is Barys-Arena, which located near Astana-Arena stadium. It is the home stadium of the local ice hockey club "Barys".
Romance.
Date with a girl in Astana won't be boring. Because even a one-two hour walk in the park of lovers, along the river embankment or Water-Green Boulevard leaves an unforgettable impression8. If your girlfriend loves art and culture you can visit Museum of First President or Museum of Modern Art9.
---
Date: 2016-01-14; view: 1068
---