BMW ADAPTIVE HEADLIGHTS
BMW Adaptive Headlights are combined with BMW High-beam Assistant technology to provide an intelligent headlight system that optimises the illumination of the road ahead without glaring on-coming traffic and other road users. This ensures improved visibility and safety during night time and poor weather driving conditions
AUGMENTED REALITY HEAD-UP DISPLAY
Having augmented reality display on a car windscreen would add a lot of functionality to the car. We would be able to see information like speed, navigation details and even the name of an incoming call with minimalistic designs on our windscreens. By using an app called HUDWAY, you can place your iPhone on the dashboard of your car and navigation information (from your iPhone) will be reflected and displayed on your windscreen. It looks very cool but obviously doesnít work under certain conditions, e.g. when the surrounding is too bright for the information to be clearly visibile on your windscreen.
Head-up displays are definitely something of the future that we should look forward to. Itíll help us keep our eyes on the road by giving us all the relevant information without having to look at a center console display or our smartphones.
The Porsche Mission E WITH A HOLOGRAPHIC DASHBOARD.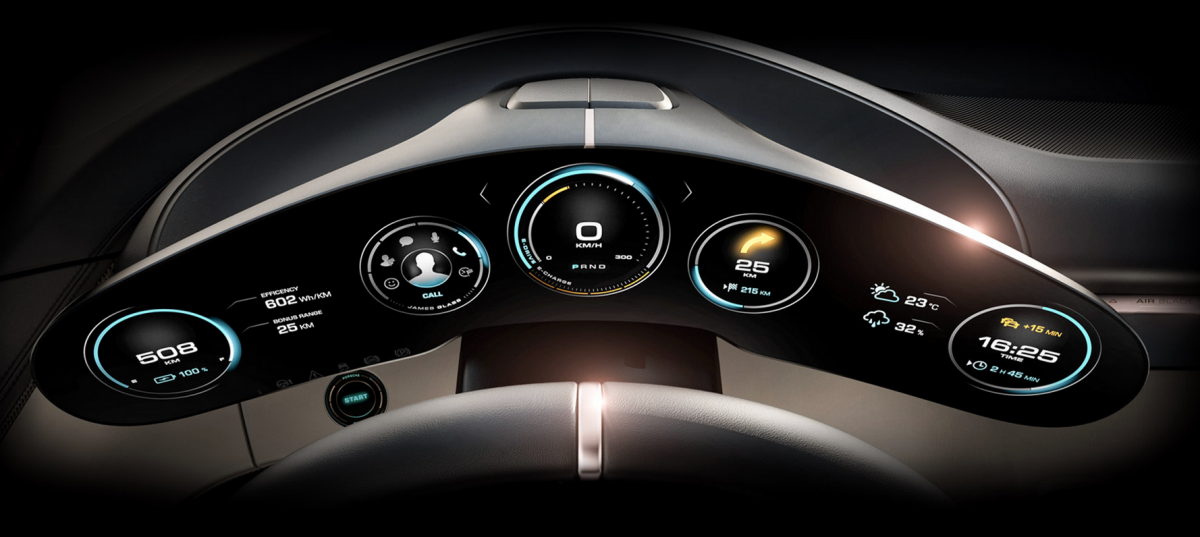 An all-electric concept car with a range of 250 miles that charges in just 15 minutes. The car has eye-tracking technology that will detect where the driver is looking on the dashboard and open the corresponding instrument.
The driver can then confirm the selection by pressing a button on the steering wheel.
It's another innovative feature that shows how cars will become more intuitive going forward. It also highlights an increased desire to create tech that cuts down on potential accidents.
7.TESLA'S AUTOPILOT SYSTEM.
Tesla rolled out its new Version 7.0 software late this year and it did not disappoint. The updates comes with automatic steering, automatic lane change, side collision warning, and automatic parallel parking.
The autopilot is so good, in fact, people have been posting crazy videos of them using it on YouTube.
Tesla is getting that much closer to perfecting a completely driverless system. It also shows the future for smart car technology: just like a phone, owners can approve software updates to get exposure to new perks.
---
Date: 2015-12-24; view: 1108
---