Port at Griffin Theatre Company | Theater review
Jonathan Berry helms a rich, assured American premiere of Simon Stephens's 2002 work about a young woman (the outstanding Caroline Neff) faced with a life full of disappointments.
By Kris Vire
Published: January 24, 2011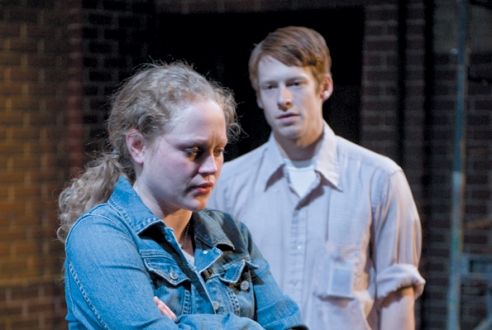 Caroline Neff with Andrew Burden Swanson in Port at Griffin Theatre Company
Berry's rich, assured production of British dramatist Stephens's 2002 drama will leave you pondering many questions. Among the biggest: Why are Griffin and Steep apparently the only theaters in the U.S. producing Stephens's outstanding work? And why are Griffin and Steep the only theaters in Chicago regularly employing the absurdly appealing Neff?
The third American premiere of a Stephens play Chicago's seen recently, after Griffin's 2008 On the Shore of the Wide World and Steep's 2010 Harper Regan, Port follows Rachael (Neff) from one disappointment to another as she ages from 11 to 24 in Stockport, a crumbling working-class town nearly devoid of opportunity or good fortune. Each of the three Stephens plays I've seen has left me wanting to see more; though he paints sometimes bleak portraits of Thoreau's "lives of quiet desperation," as Berry correctly pegs it in a program note, he seems to have more colors on his palette than most.
As for Neff, the open-faced fearlessness of her performances has grown steadily through her recent work at both Griffin and Steep, most recently anchoring the harrowing A Brief History of Helen of Troy. Inhabiting Rachael's battered journey from precocious girl trying to hold her family together to young woman struggling to regain her optimism, Neff meets each of Stephens's nuances and adds still more. Berry's precision-tuned staging populates Rachael's world with an empathetic ensemble; Andrew Swanson's remarkably sensitive portrayal of a missed romantic connection is first among equals.
---
Date: 2015-04-20; view: 2033
---