Interview with Lucy Scherer
14 Jul
She became well known through her roles as "Sarah" in "Tanz der Vampire" ("Dance of the Vampires") and Glinda in "Wicked," but a few months ago Lucy Scherer traded the musical stage for a TV set, and has since been playing Jenny Hartmann on the Sat.1 telenovela, "Hand aufs Herz." As the new student from London, she not only turns the boys heads but, after a lot of back and forth, conquers the heart of her shy classmate, Emma (Kasia Borek).
With Rosalie & Co., Lucy talked about, among other things, her role as Jenny, the "Jemma" hype, and the differences between a musical and a TV production.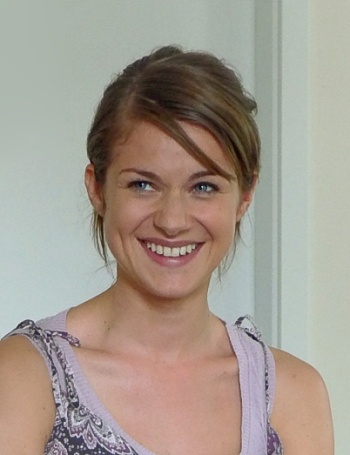 As Jenny, she doesn't just turn girlfriend Emma's head:
Actress Lucy Scherer
Rosalie & Co.: Lucy, you're a trained musical actress and had parts in productions such as "Tanz der Vampire" and "Wicked." What made you want to do a TV show?
Lucy Scherer: After graduation I worked a lot, got to know the good and the bad sides of the job, and felt that I was at a point in my life at which I wanted to get to know something new. Working with the camera has always been a dream of mine, but sadly, that's not part of the training as a musical actor. That's why I consciously planned on doing it someday, and when I heard that they were looking for someone who could sing and dance, I thought that I'd be perfect for the job.
R&C: How is working in front of a camera different from doing a musical?
LS: The singing and dancing on "Hand aufs Herz" is completely different from that of a musical production. On stage, for example, one doesn't get interrupted; you have to finish singing the song, no matter what happens. Our dancing and singing takes on "Hand aufs Herz" on the other hand, are very well-planned. Everything has to be coordinated and well-matched and that is a lot more difficult than one might think. It's quite a challenge for everybody, not only for the actors, but for the directors, camera people, etc. Besides, it was very surprising to me just how much everyone works here, in every department, every single day. I have never worked on a TV show before and underestimated that.
R&C: How much can you lean on and learn from your colleagues, some of whom are more experienced in working for a TV show?
LS: You always learn the most from your colleagues, and that is of course also true for "Hand aufs Herz." Kasia is especially important to me in that respect, not only because she already has experience working with a camera. She simply has a different calm about her, is very open and is free from prejudice. And she is an outstanding actress.
R&C: What attracted you to the role of Jenny Hartmann?
LS: Jenny is someone searching for something, especially before she came to Cologne. She was looking for love and did that in a very much unrestrained way, until she finally fell in love with Emma. I really like this searching aspect about her. Emma may not be the first love for Jenny, but it is a big love, and something that Jenny hasn't experienced before in that way.
R&C: And how much of Lucy Scherer can be found in Jenny Hartmann?
LS: Jenny is a lot more confident than I am, and a lot more resilient. On a moral level, there is hardly anything that Jenny blurts out that I, as Lucy, would condemn. There are some things that Jenny has to deal with that I simply have no experience with at all, so I did a lot of research. But that's the beauty of being an actress, to try and find a way to identify with the problems of other people. On the other hand, there's also a lot of me in Jenny. Since everything always has to happen so very quickly during filming, one intuitively takes a lot of oneself and puts it into the role.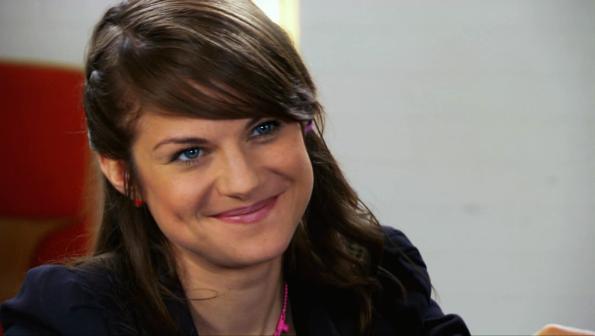 Lucy Scherer as "Jenny" on "Hand aufs Herz" (Episode 176)
R&C: Did you know from the beginning that Jenny would fall in love with Emma?
LS: At the casting, I didn't know which direction the role of Jenny would take; I only learned that a little later. When I read the role description that said that there would be this friend from school, Emma, and that there could be something else between them, I was surprised for a moment, but then I was actually happy about it. I have played lesbian roles before, in University for example, or Lulu, who isn't gay but who definitely didn't mind receiving affection from another woman, but all of that didn't have this dimension.
To me, it's something special, something I haven't played in this way before, and it sounded exciting. During our first meeting, Kasia and I talked about how it would be for us to play this, and neither of us hesitated for too long. There might be actors who would be unwilling to play such a role, but I saw it more as a challenge. What it all comes down to in the end – and what all the emotional attachment relies on – is that love is just love.
R&C: Is there anything in particular you did to prepare for the role of Jenny and also the coming out story?
LS: I read a few things and also remembered movies that I had seen, like "Aimee & Jaguar" for example, which I thought was very beautiful. Mostly however, I talked to my gay friends and asked myself how I would react, and tried to piece something together out of that.
R&C: The story of Jenny and Emma has generated a very positive feedback. Did you expect that?
LS: We would never have expected anything like this, one just doesn't speculate on a thing like this, but of course, it's wonderful. I think part of the reason that this story is so well received is the fact that it has been handled with such great care. It has been told in a very careful, respectful way. Also, I think that the topic isn't covered that often, either on German TV or internationally. But it seems to be a big concern to a lot of young people; especially teenagers who are still searching, just discovering love, and don't know their head from their feet. I got to play a really cool role with a great attitude towards the topic.
Added to this is the fact that Kasia and I take this incredibly seriously, that both of us like our roles, and that we like each other. As an actress, you have to be able to play a story like this convincingly, even if your feelings for your partner are completely different off-screen. But I think that if there was a sort of dislike, it would somehow show, especially because you cannot hide so much from the camera.
R&C: How did you learn about the "Jemma" hype? Has it even reached you, and if so, how do you deal with it?
LS: It started out just trickling in and then gained momentum. At the beginning I was especially surprised that people edited videos of the two of us and put them to music. I don't actually follow the hype that intensely, that's why I usually get most information indirectly through my colleagues. But every now and then I do check out what's happening, and I'm usually rather surprised about what people are thinking. Through my homepage I sometimes get emails that I can't even read because they're in a language I don't speak – that's pretty crazy. And placing in the AfterEllen Hot 100 – that I was even in it, that's just wow and incredible.
Its different doing TV than it is when you do theater, because on set you're usually completely shut off. One of the highlights therefore, has definitely been the Fantag. It was incredible and really great, all the warm enthusiasm we were flooded with. And after the Soap Awards, some fans stood outside the venue and sang "Be Mine" for me. I was very delighted and moved by that, and it was a very valuable experience for me.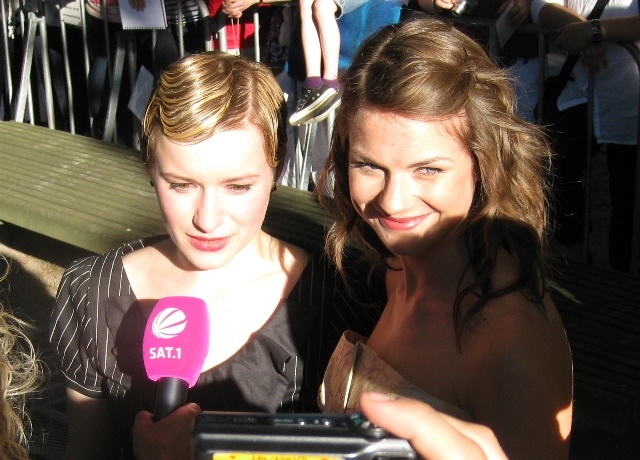 Kasia Borek and Lucy Scherer at the Soap Awards
R&C: How do the people around you react to the fact that you're playing a woman who falls in love with another woman on TV now?
LS: My friends think it's thrilling and interesting, also because roles like that don't come around often. It's a generational issue though, and it depends a lot on how much someone has come in contact with the topic of homosexuality. For me, for example, it has been an ever present topic, ever since University. On my first day, I called my mother and said: "Mum, I'm here with ten men, and not one of them is into women."
R&C: How did you get the idea of becoming a musical actress? Was it a childhood dream, or did it develop over the years?
LS: Romy Schneider was a big role model for me. I didn't necessarily want to be like her, but I thought that she was great. Actually, I didn't explicitly intend to become a musical actress. I started dancing ballet at the age of four, sang in the children's choir at the City Theater, and then it kept developing. Over time, I noticed that I like to sing and dance and act. During my school years, I spent 10 months at a High School for the Arts in the U.S. It was there that I started to seriously consider it as a professional career, and after graduation, I decided to just give it a try.
R&C: What has been the highlight of your career so far?
LS: That was when I learned that I would get to play the role of Glinda in "Wicked". At the beginning, I was a little put off that I was supposed to be playing the same role over such a long period of time, but then I just couldn't let go anymore. Glinda was a dream role for me, and it always will be.
R&C: Can you imagine returning to the musical stage?
LS: I definitely would like to continue doing both. I haven't said goodbye to the musical stage forever, but I definitely want to keep shooting as well. In Germany, unfortunately, you're usually stuck in a box and can't get out of it anymore. It's surprising that there are those prejudices among the different branches of art, instead of being happy that someone is liking a different style and promoting it. I can't understand this ignorance.
R&C: What does Lucy Scherer do when she's not Jenny?
LS: We don't have a lot of free time, but if we do I try to participate in the exciting Berlin life, meet friends, or work out, which got a little neglected during the wintertime, I'm sorry to say. The weekends unfortunately tend to go by rather quickly, and by Sunday it's usually time again to learn my text. But when I do have the time, it's also nice to just lie on the couch and do absolutely nothing.
R&C: If you could make a wish for Jenny and the love story between Emma and Jenny, what would it be?
LS: That Jenny will be successful in getting the new start that she has been looking for in Cologne, that she'll manage to conquer her past and to reinvent herself, and that she'll have someone in Emma who'll accompany her permanently. I also wish for her to get a grip on her weaknesses. In part because of her career as a child star, she has acquired a certain lack of restraint which has harmed her a great deal. It would be nice if she could manage to not let that show anymore.
R&C: What message would you like to give to the viewers and especially the fans so intently following the love story of Jenny and Emma?
LS: I hope that they learn to draw strength and courage from within, and that they're not afraid of the judgment of others or society and therefore deny who they are.
This interview was done before Sat.1 annouced the cancelation of the show. Go here for the original German version. Thank you very much to Lucy Scherer! Also, thank you to amidola for helping with the translation, to adsullata for proofreading the English version and editing the photo of Lucy, and lulufa for the picture from the Soap Awards.
---
Date: 2015-02-28; view: 3799
---