Being a large, dynamic economy with an expanding middle class, India continues to represent huge opportunities for businesses
efforts are factors driving the strong inflows of foreign direct investment (FDI) to India since 2003.
Chart 1: FDI intensity and FDI flows 2003-2008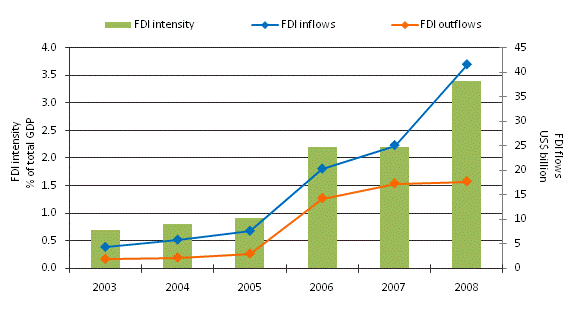 Annual real GDP is forecast to grow by 8.8% in 2010, significantly up from 5.7% in 2009.
the India government has announced in October 2009 a plan to speed up the sale of government's stakes in state-owned companies during 2010-2011 in order to bridge the country's fiscal deficit.
India ranked 49th out of 133 countries in the World Economic Forum's global competitive index in 2009-2010, ranking higher than Russia (63rd) but lower than China (29th). The country remains competitive on a global basis in terms of business innovation, financial markets and functioning institutions. Corruption is also a major problem in India. In 2009, the country ranked 84th out of 180 countries in Transparency International's corruption perceptions index.
Chart 2: Corruption perceptions index rank in selected countries 2009
Global rank out of 180 countries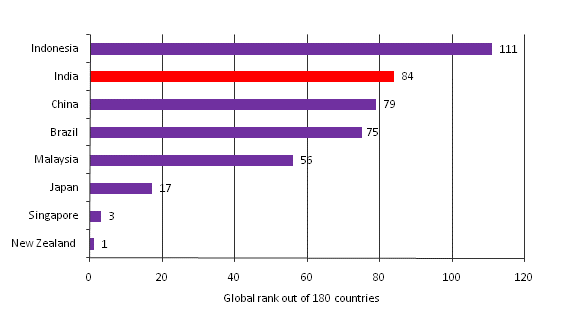 2. Ease of doing business
Excessive bureaucracy causes difficulties for businesses
Due to its excessive bureaucracy, India has ranked low in the World Bank's Ease of Doing Business reports and the country ranked 133rd out of 183 economies in the 2010 report.
(pic)
India is one of the most difficult countries in which to start a business. To set up and run a local limited liability company it requires 13.0 procedures, takes 30.0 days, and costs 66.1% of gross national income per capita. This is significantly higher than 4.9% required in China and 6.9% required in Brazil. The process of property registration or transfer is also complex and requires 5.0 procedures, takes 44.0 days and costs 7.4% of the property value.
Table 1: Ranking in Doing Business 2009 - 2010
| | | | |
| --- | --- | --- | --- |
| Indicator | Doing business 2009 | Doing business 2010 | Change in rank |
| | | | |
| Ease of doing business | | | -1 |
| Starting a business | | | -3 |
| Dealing with Construction Permits | | | -1 |
| Registering Property | | | -1 |
| Getting Credit | | | -3 |
| Protecting Investors | | | -3 |
| Enforcing Contracts | | | |
| Closing a Business | | | |
Source: Doing Business 2010, World Bank
The process of closing a business in India takes 7.0 years for completion,
With a huge domestic market and a high innovation capacity, India has a fast-growing and promising information communication technologies (ICT) industry. Due to immense poverty, however, the extent of ICT penetration remains low.
Since its economic reform in 1991 India has gradually relaxed many constraints on foreign investment. In 2008, for example, the Indian government raised the foreign investment equity cap in the oil refining industry from 26.0% to 49.0% and allowed 100% foreign ownership in the mining industry.
In order to protect domestic industries, however, a complex array of restrictions in FDI remains, along with complicated regulations on investment processes. In addition, FDI remains prohibited in several sectors such as multi-brand retailing and railways. Limits on foreign ownership have impeded investment in India's key sectors such as retailing.
As of June 2010, India has signed free trade agreements (FTAs) with ASEAN, Sri Lanka, Thailand, Malaysia and South Korea. It is negotiating further FTAs with several countries including Japan, Australia, Indonesia, Malaysia, China and Egypt. India has gradually liberalised its trade policy and the country's share in world trade has been increasing steadily. Tariffs and trade barriers have been reduced since India's participation to the World Trade Organization (WTO) in 1995. Nevertheless, India's trade regime remains restrictive with high import tariffs and barriers such as lengthy licensing and custom procedures which create obstacles to importers and exporters.
Chart 3: Trading across borders global ranking 2010
Global rank out of 183 countries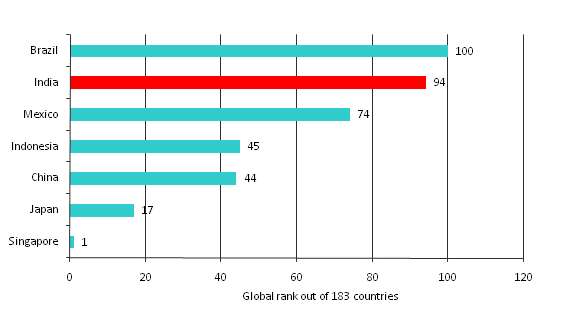 4. Taxes
China's 504 hours.
Chart 4: Total tax rate and number of hours to prepare, file returns and pay taxes 2005-2009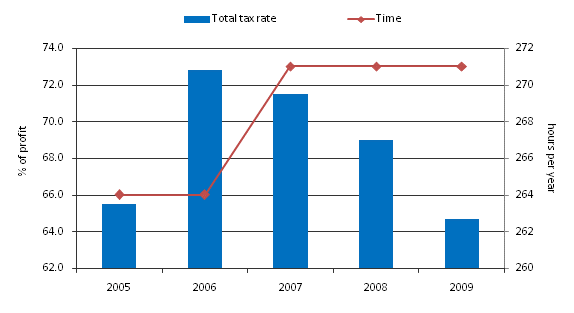 The administration of indirect taxes is complicated
a moderate level of taxation and simplified tax laws would help improve India's tax governance and promote voluntary tax payments.
Chart 5: Corporate income tax rate in selected countries 2009
%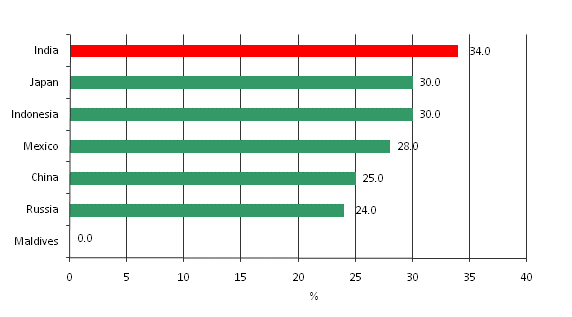 As of 2009, the effective corporate income tax rate applied for Indian companies is 34.0%. This makes India less competitive than some of its peer countries including China and Russia
5. Labour and skills
Skills shortages due to high illiteracy and underinvestment
India has a large pool of skilled workers including scientific and technical personnel with English language proficiency. The country has therefore become an outsourcing centre for many global companies especially those in the information technology sector. Due to rapid economic growth and a low adult literacy rate (67.7% of population aged over 15 years old in 2009) India faces major skills shortages. In addition, the country suffers from a "brain-drain" problem because many Indian skilled workers emigrate abroad to seek better paid jobs. In order to cope with skills shortages, the Indian government encourages Indians overseas to return to work and invest in India.
India's tertiary education system, therefore, continues suffering from underinvestment and a low participation rate among the population. education goes to elementary education.
India possesses a young and growing workforce. India's unemployment rate continues to be high due to underemployment especially among women.
Cheap labour costs have been one of India's competitive advantages in attracting foreign investors. Regulations on minimum wages vary across states and sectors. The government, however, imposes a National Floor Level Minimum Wage, which was increased from Rs80.0 (US$1.7) to Rs100 (US$2.1) per day in November 2009. Personal income in India is taxed progressively. For financial year 2010-2011, the maximum amount of annual income not chargeable to tax is Rs160,000 (US$3,306). Women and senior citizens above 65 years old enjoy a higher tax exemption base
Chart 6: Unemployment rate, economically active and employed population 2004-2009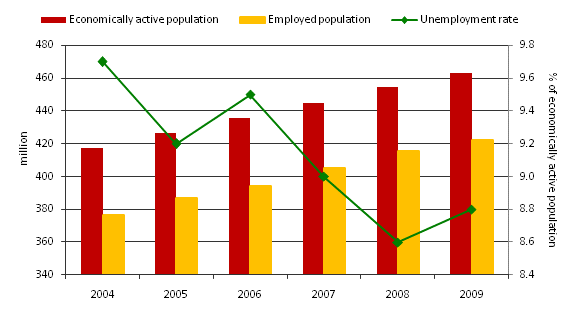 Source: Euromonitor International from International Labour Organisation
India is benefiting from a "demographic dividend" owing to the country's large and youthful population. In 2009, nearly one third of the country's population was aged below 14 years old. If enough jobs could be created, such a demographic dividend offers the opportunity for a consumer boom.
Chart 7: Consumer expenditure by sector 2009
% of total consumer expenditure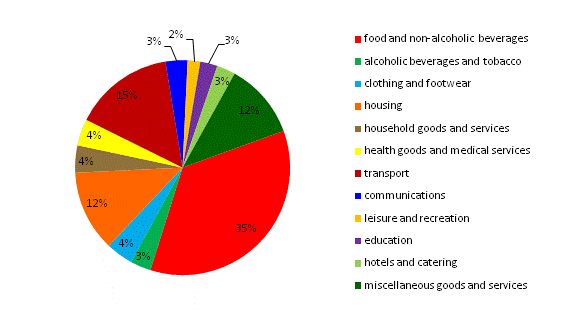 ---
Date: 2015-02-28; view: 871
---