What clothes say about you
1. Discuss the following questions in pairs.
· What sort of clothes do you like?
· Do you spend a lot of money on clothes?
· Do you follow fashion or are you completely oblivious to what is currently in vogue?
2. Look at the pictures below and answer the questions.
· Do you know when these clothes were fashionable?
· Who or what do you think influenced these fashions?
· What type of person would have bought or worn these clothes?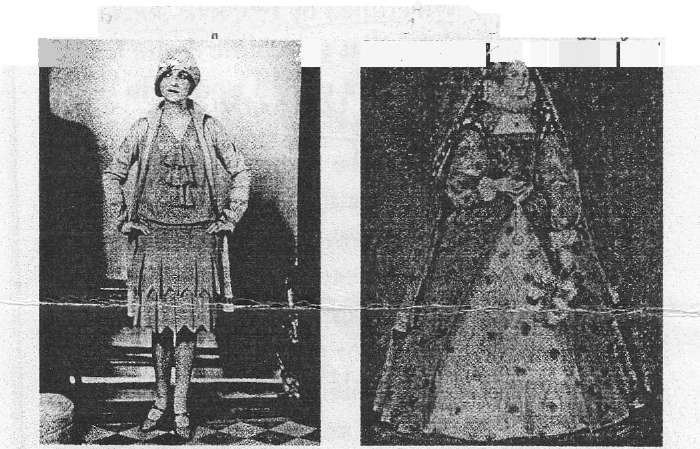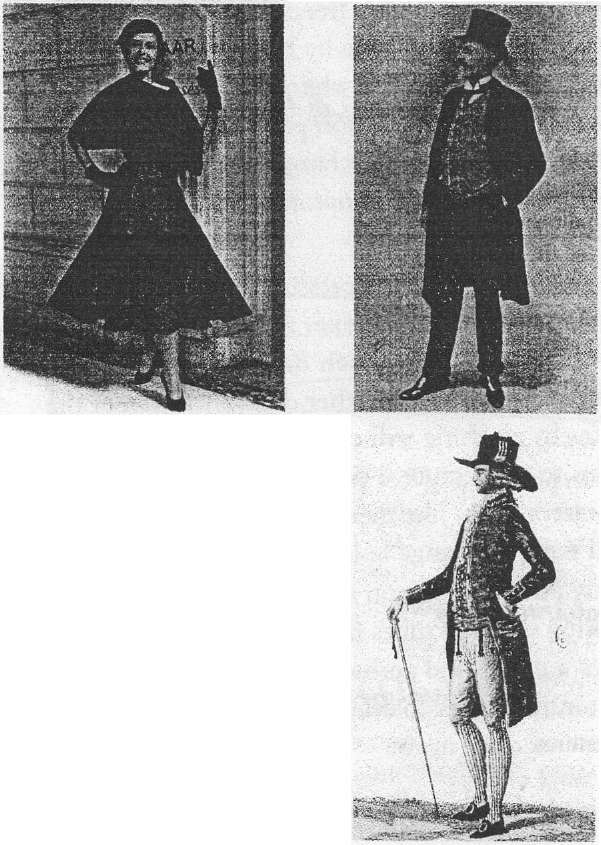 3. Read the article quickly and match each paragraph
to one of the headings:
a) Why men and women dress differently
b) Dressing to look more attractive
c) Future changes in fashion
d) Dressing to indicate power and wealth
e) Dressing to belong to a group
f) Changes in fashion are not arbitrary
4. Read the article again and answer the questions.
a) Which areas other than clothes does writer apply the term "fashion" to?
b) In what way can dress be described as a type of art?
c) What is the purpose of a king's crown, a soldier's uniform or a judge's robes?
d) Can you find examples of items used to convey wealth and power?
e) What four examples does the writer give to describe the way fashion is linked to fundamental changes in moral or social values?
f) How do clothes make people look more attractive?
g) Have physical ideals for men changed as much as for women in the last 200 years?
h) What are the three suggestions given to explain why women have traditionally worn skirts?
i) why have men and women's clothes become more similar in recent years?
j) Does the writer think they are likely to remain so?
1. Man's inventiveness in manipulating a length of cloth into a three-dimensional shape to cover the human body has been demonstrated with astonishing variety over the past eight centuries.
The continuous desire for change in dress cannot be dressed as arbitrary. Fashion, whether in art,
architecture, furniture or dress, must rather be seen as the expression of ideas shared by a number of people at any one time, often linked to fundamental changes in moral or social values and thus reflecting the essential characteristics of a particular period; and dress as an art form, a skilful of materials through which ideas or messages, both personal and social, are communicated.
2. Articles of clothing were first used in this way as symbols of rank, authority or occupation, a function that still survives in, for example, a king' crown, a bishop's mitre and cope, special robes for judges or men of learning, and uniforms for military or specialized services. From these specific symbols developed the use of clothes to convey less obvious or direct messages such as the superiority of one individual over another, particularly in terms of wealth (which frequently also meant power), indicated by jewels, rich fabrics and furs, or garments in which it would be difficult to undertake physical labour. Even today clothes indicating financial success may be desired.
3. The need to achieve status and win admiration is a fundamental human instinct and is reflected in our clothing. Few people are completely indifferent to the clothes they wear; even those who choose to dress 'out of fashion' in what they consider a more aesthetic manner or one that is negligent or even achieve a sense of superiority in being, unconventional. But there is also a strong urge to belong; man is a social animal and needs to feel at one with the community. Fashion, particularly in the highly personal area of dress, is therefore an expression of the communal ideas or beliefs of a social group - as, for example, the revolutionary casting-off of formality in the late 18th and early 19th centuries, the restrictive, often hypocritical formality of the Victorian period, the greater emancipation of women during the mid 1920s, and the revolt against the establishment in the 1960s.
4. The desire to be admired for physical beauty also plays an important part in costume. In seeking to achieve the ideal fashionable image, dress has been used to accentuate good points and disguise shortcomings. Success in attracting the opposite sex has been consistently admired and envied, but physical ideals have varied widely, noticeably rather more so for women than men during the 19th and 20th centuries.
5. Why should men and women dress differently? The assumption since the mid 16th century that skirts àrå ñorrect for women and not for men (except in certain specialised dress such as the Scottish kilt) was fairly obviously brought about by roles they were called upon to play in society, underlined by religious pressures. Feminists may claim that masculine desire for superiority or dominance caused women to be dressed in garments that hampered their movements; but it may be that such garments were originally an indication of a lady's privileged position. However, most upper- and middle-class women, forced until comparatively recently to accept marriage as the only respectable career, had for practical reasons to look for social advancement or financial stability in a husband if they had any choice at all, while men, who had greater freedom, might be attracted into marriage by beauty alone; and this may have encouraged what has been referred to as the erotic or seduction principle in women's dress, with a constant change of emphasis on different parts of the anatomy to stimulate interest and attention.
6. With less religious pressure and greater equality between these sexes in the last few decades, men and women have often worn similar clothes, so whether, differentiation of the sexes by clothing will continue in the future is open to conjecture. I personally think that women's dress, like men's since the 19th century, will tend to change less dramatically and remain fairly practical; but on suitable occasions lavishly training skirts or robes in rich fabrics may still have a place, and perhaps convention and custom will alter to allow men also to wear such garments once again.
---
Date: 2015-02-16; view: 2357
---