Old english dialects
It is common to divide England into four dialect areas for the Old English period. First of all note that by England that part of mainland Britain is meant which does not include Scotland, Wales and Cornwall. These three areas were Celtic from the time of the arrival of the Celts some number of centuries BC and remained so well into the Middle English period.
The dialect areas of England can be traced back quite clearly to the Germanic tribes which came and settled in Britain from the middle of the 5th century onwards. There were basically three tribal groups among the earlier settlers in England: the Angles, the Saxons and the Jutes. The Angles came from the area of Angeln (roughly the Schleswig-Holstein of today), the Saxons from the area of east and central Lower Saxony and the Jutes from the Jutland peninsula which forms west Denmark today. The correlation between original tribe and later English dialect is as follows:
Germanic tribes and regions in England where they mainly settled
Saxons — South of the Thames (West Saxon area)
Angles — Middle and Northern England (Mercia and Northumbria), including lowland Scotland
Jutes — South-East of England (Kent)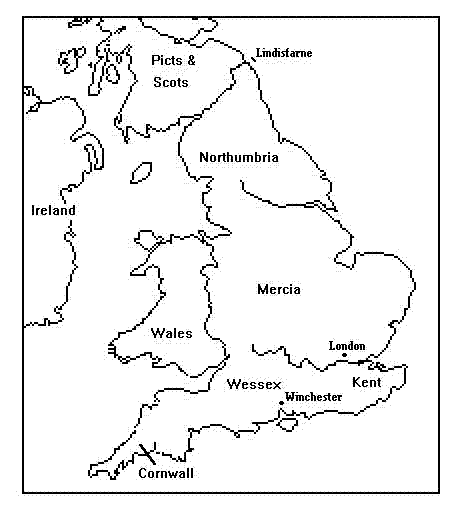 Of these three groups the most important are the Saxons as they established themselves as the politically dominant force in the Old English period. A number of factors contributed to this not least the strong position of the West Saxon kings, chief among these being Alfred (late 9th century). The West Saxon dialect was also strongest in the scriptorias (i.e. those places where manuscripts were copied and/or written originally) so that for written communication West Saxon was the natural choice.
A variety of documents have nonetheless been handed down in the language of the remaining areas. Notably from Northumbria a number of documents are extant which offer us a fairly clear picture of this dialect area. At this point one should also note that the central and northern part of England is linguistically fairly homogeneous in the Old English period and is termed Anglia. To differentiate sections within this area one speaks of Mercia which is the central region and Northumbria which is the northern part (i.e. north of the river Humber).
A few documents are available to us in the dialect of Kent (notably a set of sermons). This offers us a brief glimpse at the characteristics of this dialect which in the Middle English period was of considerable significance. Notable in Kentish is the fact that Old English /y:/ was pronounced /e:/ thus giving us words like evil in Modern English where one would expect something like ivil.

---
Date: 2015-02-16; view: 1951
---