Freedom of information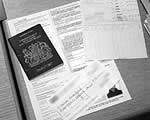 Everyone has the right to request information held by public sector organisations under the Freedom of Information Act. Find out how freedom of information works, how to make an information request and what to do if your request is refused.
The Freedom of Information Act
The right to see a wide range of public information
The Freedom of Information Act gives you the right to ask any public body for all the information they have on any subject you choose. Unless there's a good reason, the organisation must provide the information within 20 working days. You can also ask for all the personal information they hold on you.
Everyone can make a request for information – there are no restrictions on your age, nationality, or where you live.
You can ask for any information at all - but some information might be withheld to protect various interests which are allowed for by the Act. If this is case, the public authority must tell you why they have withheld information.
If you ask for information about yourself, then your request will be handled under the Data Protection Act.
Scotland has its own Freedom of Information Act, which is very similar to the England, Wales and Northern Ireland Act. If the public body you want to make a request to operates only in Scotland, see the link below.
Public sector bodies covered by the Act
The Act applies to public bodies including:
· government departments and local assemblies
· local authorities and councils
· health trusts, hospitals and doctors' surgeries
· schools, colleges and universities
· publicly funded museums
· the police
· non-departmental public bodies, committees and advisory bodies
How to make a request
Write to (or email) the public body and include:
· your name
· an address where you can be contacted
· a description of the information that you want
To help the public body find the information, give as much detail as possible. For example, say 'minutes of the meeting where the decision to do X was made', rather than 'everything you have about X'.
All public authorities must manage their information in accordance with a publication scheme which describes the 'classes' or 'kinds' of information held (such as minutes or reports).
How long does it take?
You should get a response within 20 working days. If the public body needs more time, they will write and tell you why, and when you will get their response.
What does it cost?
Most requests are free. You might be asked to pay a small amount for photocopies or postage.
If the public authority thinks that it will cost them more than £450 (or £600 for central government) to find the information and prepare it for release, then they can turn down your request. They might ask you to narrow down your request by being more specific in the information you're looking for.
How you receive the information
When you make a request you can ask that the information is given to you in a particular way. For example, you can ask for paper or electronic copies of original documents or you can ask for a summary of them. You can also ask to inspect specific documents.
However, a public authority may take into account the cost of supplying the information in this form before complying with your request.
You may also be able to receive the information:
· in Braille
· in audio format
· in large type
· translated into another language
Copyright and restrictions
If you plan to reproduce the information you receive, make sure you check the copyright status of it first.
Requests for environmental information
Everyone also has certain rights of access to environmental information under the Environmental Information Regulations.
For example, information about air or water quality, noise and waste as well as any policies, decisions or activities that could affect them.
If you request information about the environment it cannot be refused just because of what it would cost the public authority to comply.
Challenging a response to an information request
If your request for information is refused, you should first ask the public body to review their decision. Someone from the public body who was not connected with the initial decision should do this.
If you disagree with the reviewed decision, you can appeal to the Information Commissioner's Office (ICO). This is an independent body that promotes access to official information and protects personal information. If information has been wrongly withheld, the ICO can order it to be released.
If you disagree with the ICO's decision, you can appeal to the Information Rights Tribunal. This is an independent body that can look into your case and the ICO's decision. There are specific steps and deadlines you will need to follow when you appeal. If you disagree with the tribunal's decision, there are more options, but you may need professional advice.
Data protection
The Data Protection Act controls how your personal information is used by corporations or the government. Its rules require everyone who collects data to follow strict rules, and to keep your information safe. This page explains how it works.
Protecting your information
The Data Protection Act's rules are quite complex, but at the heart of it are eight common sense rules known as the 'data protection principles'.
These principles require any organisation, corporation or governmental body that collects personal information to handle it safely. Anyone collecting personal information must:
· fairly and lawfully process it
· process it only for limited, specifically stated purposes
· use the information in a way that is adequate, relevant and not excessive
· use the information accurately
· keep the information on file no longer than absolutely necessary
· process the information in accordance with your legal rights
· keep the information secure
· never transfer the information outside the UK without adequate protection
All organisations collecting and using personal information are legally required to comply with these principles.
The law provides stronger protection for more sensitive information - such as your ethnic background, political opinions, religious beliefs, health, sexual life or any criminal history. It is enforced by an independent information commissioner, who can take action against any company or governmental body that fails to protect your information, or that abuses its right to collect and hold that information.
Finding out who knows what about you
The Data Protection Act gives you the right to find out what information about you the government and other organisations store. This is known as the 'right of subject access'. If you submit your request in writing, they are legally required to provide you with a copy of all the information they hold about you.
Some agencies or corporations may charge a fee for providing the information, but they are only allowed to charge up to £10 for digital information, or £50 for printed (i.e. non-electronic) medical records. Finding out what information about you credit reference agencies hold costs £2.
Stopping direct marketing
Some people resent the way companies and government agencies contact them directly by phone, post or even fax. You have the right to stop these direct marketing campaigns from using your personal information to contact you.
All you have to do is register your details with one of the 'preference services', which allow you to opt out of direct marketing altogether.
---
Date: 2015-02-16; view: 894
---