General Information
Component locations
| | | | |
| --- | --- | --- | --- |
| 1.handlebar | 16.wheel tension | 31.adjustable nut of front shock | 46. rear rocker |
| 2.Fuel cap & breathe tube | 17.left pedal | 32alloy linker | 47. rear brake disk |
| 3.front fairing | 18.side stand | 33.gas cap | 48£®clutch handle |
| 4.steel frame | 19.gear lever | 34.spoke | 49. engine stop switch |
| 5,rear fairing | 20.engine | 35.wheel hub | 50. cover of handlebar |
| 6,saddle | 21.front hydraulic brake system | 36.rubber | 51. front brake handle |
| 7.rear fender | 22.front brake disk | 37.axes | 52. ignition switch |
| 8.Muffle | 23.front wheel | 38.ventpipe | 53. handlebar and clamp |
| 9.rear shock absorber | 24.fender of front shock | 39.protect fender | 54. key switch |
| 10.rear wheel | 25.front shock | 40. guide wind board | |
| 11rear sprocket | 26,front fender | 41 alloy pedal of rear brake | |
| 12.rear jack | 27.number plate | 42. £®window of green oil | |
| 13.guiding of chain | 28.dipstick | 43£®right pedal | |
| 14.rear fork | 29.kick-starter | 44. brake lever | |
| 15.chainand chain guard | 30.fuel tank | 45. rear hydraulic brake system | |
Picture 1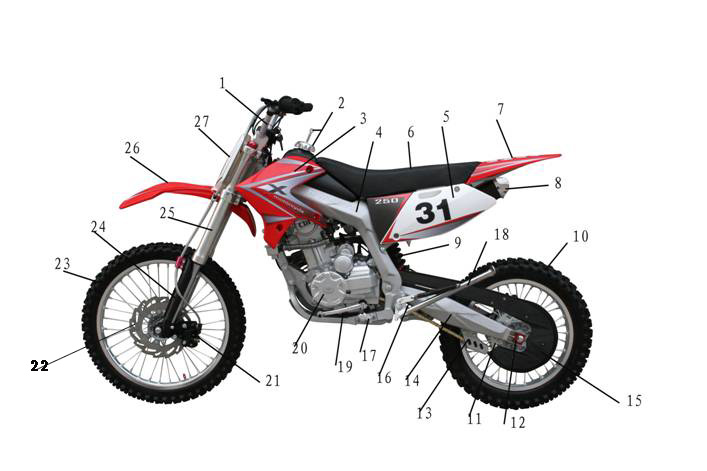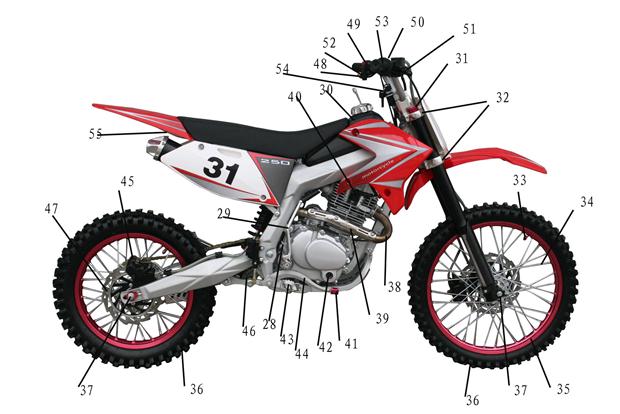 Picture 2

Vehicle Identification

Frame, engine and EPA Identification

The frame, EPA and engine identification are required when you register your motorcycle, but EPA identification is generally applicable in the USA. The frame and engine serial may also be required when ordering replacement parts .Please record these numbers in the reference and Warranty Certificate section in this manual.

Write down important information here

FrF

EPA (only USA) information £ºEPA




Frame Identification (VIN)

The frame number (VIN) is stamped on a number plate located on the right front side of the frame.
Engine Identification

Engine number is stamped on the bottom of the engine, on the left side.
EPA Identification EPA
EPA identification is stamped on the rear fork or on the left side of the frame.
---
Date: 2015-01-29; view: 396
---